Jon Krinsky at MKM Partners with a little bit of seasonal awareness for you as we head into August, the "worst" month for S&P 500 performance statistically speaking.
Markets tend to act up in August for the same reason why shootings rise – it's hot out, people are losing their minds and everyone is spending more time outdoors interacting with each other rather than sitting quietly indoors. This leads to a combination of apathy and mischief, in the streets and in the markets. And once Q2 earnings reports wrap up, forget about it.  Gurney's of Montauk is packed to the gills with the types of people who make large allocation decisions, leaving their junior associates back on the desk to spin their fidgets and read TMZ.
Here's Jon:
August has been the worst month for the SPX over the last 30 years, averaging a -0.86% decline. Of course this is just an average, and there have been some strong gains in August especially during strong uptrends (2014, 2009, 2006).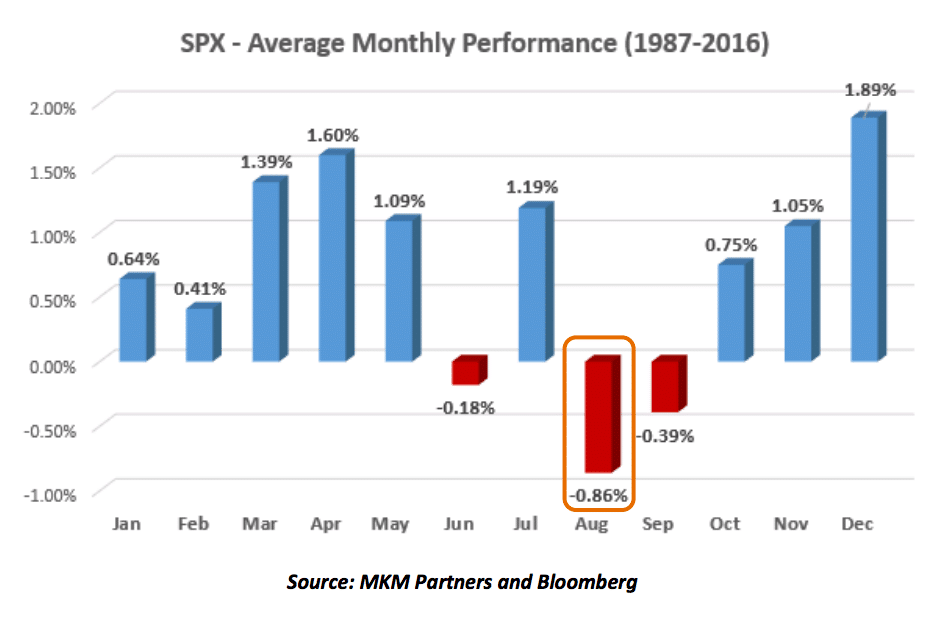 Source:
Some Shots Across the Bow
MKM Partners – July 30th, 2017