Matt Egan has a piece up at CNNMoney seeking to reconcile the ongoing bull market with the unmitigated shitshow that is the Trump presidency at the moment.
The reality is, as some of us were saying last fall, things were going just fine before the election – globally and in the US. This is not to say that the administration can't get its act together and start doing what it promised, I'm just pointing out the obvious reality that it hasn't yet. Not a political comment, just a factual one.
And while the market may have initially gotten excited about tax reform, infrastructure spending, etc last fall, it just didn't matter. Now that the fake Trump Trade has died on the vine and reality is setting in, we see a lot of things people were hyped up about reverting back to where they started.
For example, Goldman Sachs created a basket of the stocks that would have the most to gain from the promised massive corporate tax reform shortly after the election. Here's what that index looks like now, in the cold light of day:
Wall Street no longer seems to be banking on massive tax cuts.

Just look at how the obvious winners of tax cuts — companies that pay high taxes — have performed. Goldman Sachs created a basket of "high tax" stocks like CVS Health (CVS) that initially spiked after November 8, but now trade at lower levels than before Trump's election.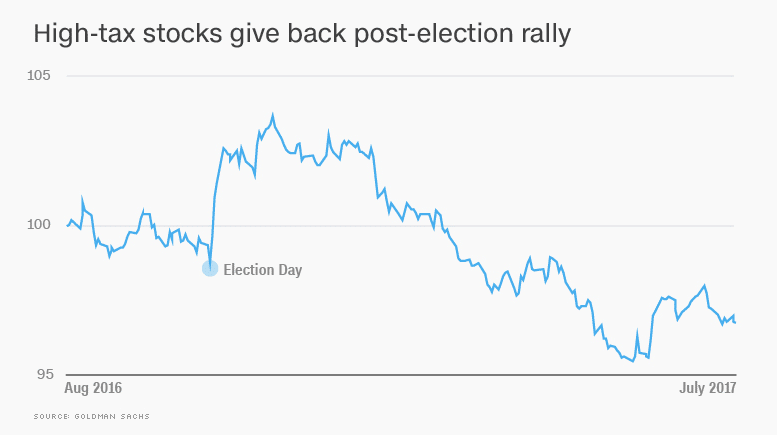 Josh here – keep in mind that this slide has occurred against a backdrop of a 3,000 point gain in the Dow Jones Industrial Average! Fairly remarkable.
Similar unwindings can be seen in the performance spread between US stocks vs foreign stocks (they've reversed, with foreign stocks leading), the US dollar bull market (the dollar has been crushed vs the euro) etc. In fact, the US market has been led this year by the two sectors that were said to have had the most to lose under the new regime – Technology followed by Healthcare.
Again, I'm not saying it's good or it's bad – it just is. The market has collectively given up on the whole mishigas.
Source: