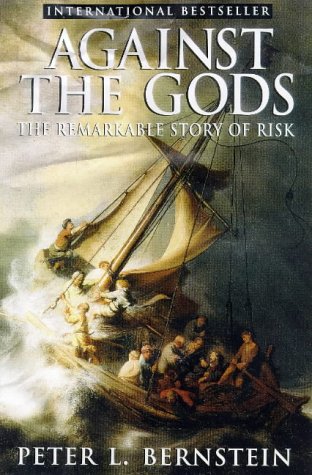 Well, my Seven Books plan for this summer began with a masterpiece. Peter L. Bernstein's Against the Gods is so engrossing and wonderful I don't even know where to begin.
Maybe I'll start with this G.K. Chesterton quote, which sums up neatly what the book is about and the story its author is looking to tell:
The real trouble with this world of ours is not that it is an unreasonable world, nor even that it is a reasonable one. The commonest kind of trouble is that it is nearly reasonable, but not quite. Life is not an illogicality; yet it is a trap for logicians. It looks just a little more mathematical and regular than it is; its exactitude is obvious, but its inexactitude is hidden; its wildness lies in wait.
I'll let that sink in for moment – its wildness lies in wait. 
I talk a great deal about evidence-based investing and the probabilities of this or that market or economic situation coming to pass. I do so knowing full well that what is likely or historically reasonable to assume, will not always arrive to satisfy the diligent student of history. And because of this elemental fact – and my firm's obeisance to it – the portfolios we manage tend to have a built-in durability so that we are, to whatever extent possible, inured to this wildness of Chesterton's, if and when it comes.
But durability has a cost. There are some free lunches in the capital markets – diversification being one of them – but, as Peter Bernstein explains, diversification doesn't mean you will not lose money at times, it simply means you will not lose all of your money, all at once. There have been market environments in the past during which this was as good as you could have asked for as an investor with capital at risk. Those environments will come back sometime in the future. Planning for them and understanding their inevitability – even if they fail to look like similar periods in our recollection – is part of the business with which we concern ourselves.
Thousands of years ago, when life was short and even a day to day existence was enormously uncertain for most human beings, we had resigned ourselves to a belief system in which fate was out of our hands and entirely decided upon by the gods who surely decided all matters in heaven and here on earth. As time went by, a series of pioneering thinkers began to challenge the idea of there being no way to determine our own futures.
It began with the Greeks and the old Jewish philosophers of the Talmud. Some of the right questions were raised but the will to test potential hypotheses didn't really come into its own until the Renaissance. That's when a handful of scholars started to borrow ideas about probability from the realm of gambling and game-playing. They start to build frameworks for risk-taking that are applicable to other pursuits, like insurance and agriculture. As each new idea builds on the last idea, we get an unbroken chain of insights about the nature of risk going back hundreds of years and spanning the civilized world.
Along our journey, we meet Arab mathematician al-Khowarizmi, whose name is where the term "algorithm" comes from. We come across the heroes of mathematical and scientific theories who each contributed to our understanding of numbers, statistics, probabilities and risk. The names will be familiar to you, even if you don't know why you've heard them before: Bachelier, the Bernoulli family, Gauss, Knight, Keynes, Galileo, Graunt, Markowitz, Halley, Morgenstern, Kahneman and Tversky, Euclid, Fermat, Black, Darwin, Galton, Merton, Leibniz, Laplace, Quetelet, Samuelson, Sharpe, Jevons, Thaler and von Neumann.
We'll witness the origins of Prospect Theory and Game Theory. The first attempts to deduce future occurrences of births and deaths from primitive measurements of the population. The earliest work on genetics and heredity. The start of the insurance industry and its actuarial underpinnings. The founding of behavioral economics. The beginnings of Modern Portfolio Theory and the Efficient Market Hypothesis. The birth of the options and futures markets. The triumph and eventual failure of the Rational Man concept and the widespread use of portfolio insurance.
So now we have ways of quantifying the vast amount of potential outcomes of disease, wars, economic booms and busts as well as financial transactions. But this ability to measure and intelligently predict has not eliminated volatility and uncertainty from our world. Bernstein makes the case that we may have seen even more volatility arise as a result of our efforts to wrestle uncertainty to the ground.
It's a thrilling ride loaded with important and interesting details about the ideas and the people who brought them into the world. The author's evocative prose and narrative skill make all the difference here – these are subjects that most of us have only learned about as a result of slaving through textbooks. Bernstein writes it like a long, connected story arc through the ages. As a result, you find yourself turning the pages to discover the next innovation, and then the next.
I highly recommend that everyone get a copy and find the time for this.
If you've been reading along with me this week, tell me what you thought about it on Facebook here.
Are you ready for the next book in the plan? Remember, we're reading Timothy Egan's 'The Immortal Irishman: The Irish Revolutionary Who Became an American Hero' this week. I'll be back on Monday with a reaction to it and I hope to hear yours as well!