Lots of feedback on what I said about NVIDIA yesterday. It is now the hottest technology company / stock in the market. Citi made the bull case for why it could double to 300. This sort of thing makes me nervous. Reversals can be sharp and vicious, especially when a stock goes parabolic and everyone is on the same side of a trade.
And you can see how overbought this stock is right now in the chart below. Take a look at relative strength over 80 in the bottom pane: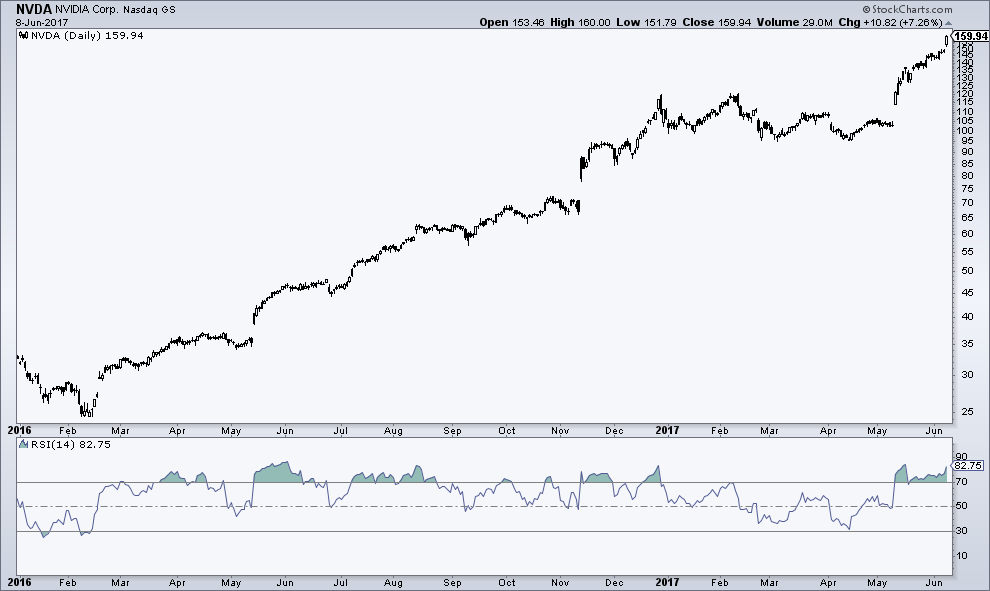 The last time it got this overbought, we saw a 20% sell-off during a five month consolidation process that ended in May. As I noted yesterday, the best stocks throughout history have shaken people out every year with catastrophic drawdowns. NVDA will not be immune to that dynamic and all good trades come to an end.
But what if it's more than a trade?
The idea behind the rise of NVDA is that it is the Intel of the AI age, as quintessential to all of the new technology trends as Intel once was as the PC revolution exploded across the world. The PC era really kicked into high gear in the mid-1990's with the launch of Windows 95 from Microsoft. Almost every computer running Microsoft was also running one of Intel's Pentium chips. It was a package deal we called WinTel, and the term "Pentium" became like Q-Tip – a brand name so powerful that it became synonymous with the whole category.
This continued on for five or six years until the tech crash, that really had nothing to do with computer sales.
Here's Intel's stock, in terms of percentage gains, from the start of 1995 – the company's watershed year – into March of 2000: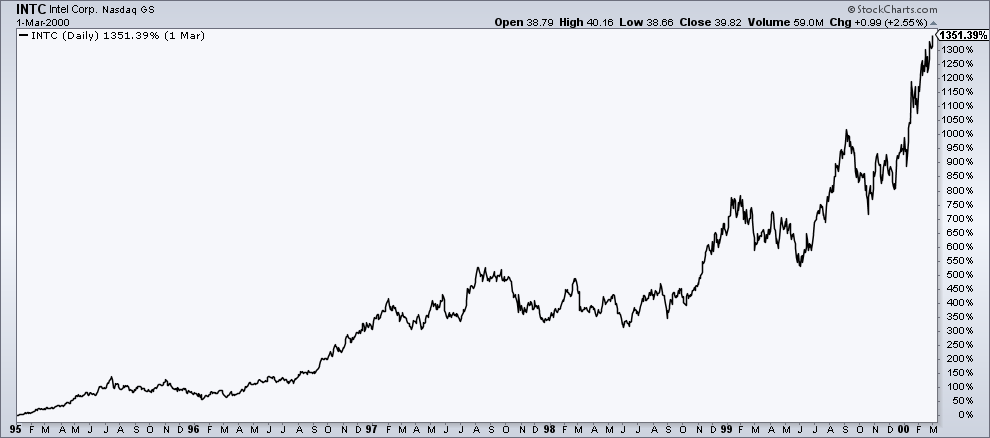 That's a monster stock, one of the greatest runs of all time for a large tech company.
Now here's NVDA, one year and four months from its moment of liftoff – when the world woke up to what the company was doing in AI and why it mattered: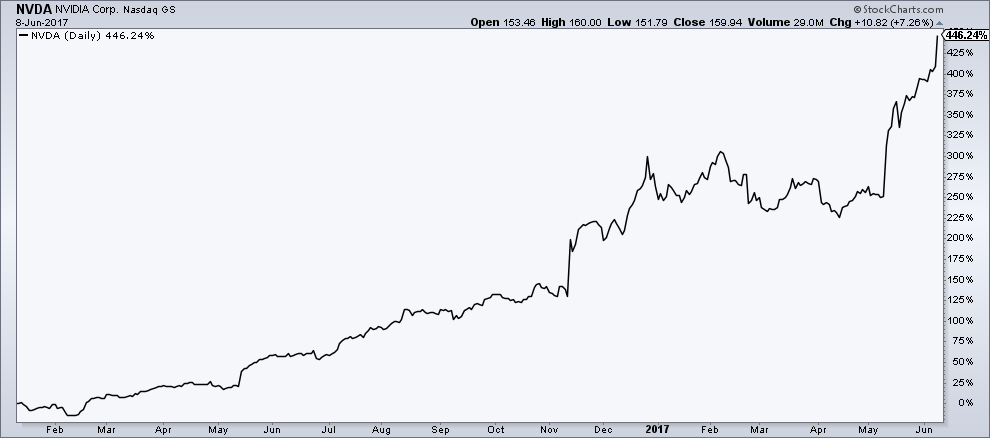 These are serious gains too, no doubt. But we haven't seen anything compared to the Intel run. Bulls would say the best is yet to come. Bears would say "I knew Intel, and this is no Intel." Pragmatists would look at the drawdowns of the Intel chart – even during its epic run – and say "There'll be a better opportunity to get in."
It's possible that all three could be right! That's what makes markets challenging and fascinating.
If you missed my post about NVDA yesterday, it's here:
The Most Important 24 Minutes of Your Year (TRB)