The Wall Street gives a shoutout to the Everything Rally this morning, noting the current goldilocks environment of low inflation, stable economic growth, easy monetary policy and the dollar's 5% fall.
Stocks, bonds, gold and bitcoin—assets that rarely move in unison—have all been surging this spring, an everything rally that leaves investors confounded about how to play the plodding U.S. expansion and vulnerable to sharp reversals in fortune.
Their chart: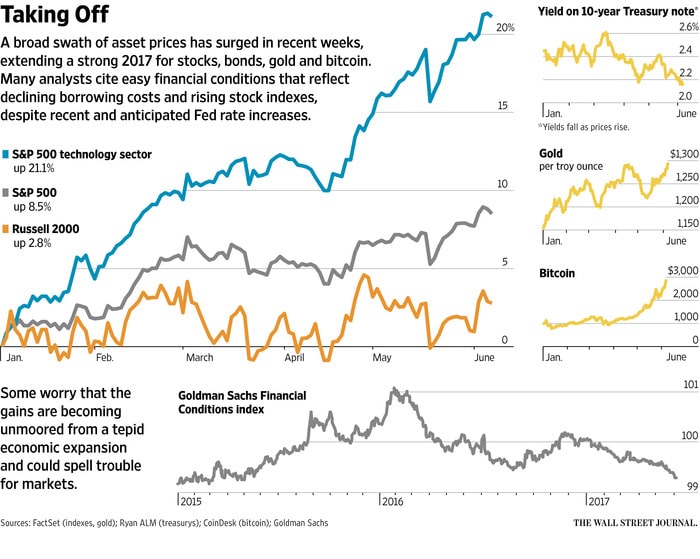 Josh here – they left out the rally in overseas stocks, which have been on a rampage. Every major Euro Zone country has seen 52-week highs in their respective stock prices and the Nikkei has broken above 20,000. Emerging markets, as an asset class, are up triple what the S&P 500 has gained.
The only two S&P 500 sectors that didn't print new all-time highs last Friday were Energy and Financial, although you can find constructive charts in both on a stock by stock basis.
The same people who were recently screaming that the rally has been too narrow are now going to change their tune to "This is as good as it gets."
Maybe they'll blindly find their nut this time.
Source:
Spring Rally in Stocks, Bonds, Gold and Bitcoin Unnerves Investors (Wall Street Journal)