Once upon a time, one of the chief complaints about the bull market was the fact that corporations – fueled by the Fed's largesse – were "manipulating" both their earnings and share prices higher via stock repurchases, or colloquially, buybacks.
The term "buybacks" became a sort of shorthand for the bears when describing what they saw as an illegitimate environment in which their skill and brilliance were going unrewarded owing to exogenous factors.
The truth is, however, that buybacks may have peaked for the cycle a year or two ago. Which, if you're blaming monetary policy for their prevalence, would make sense. The Fed's tapering off of monthly QE began in 2014, and the Fed Funds hikes began in December of 2015. We've been in a tightening environment – in both word and deed – for three years now.
Bank of America looks at its corporate clients' buyback activity and finds quite a drop-off year-to-date:
Buybacks by our corporate clients picked up last week to typical April levels, but year-to-date are tracking their lowest of any comparable period since 2013 and are down nearly 30% YoY—suggesting less of a boost to corporate EPS from buybacks.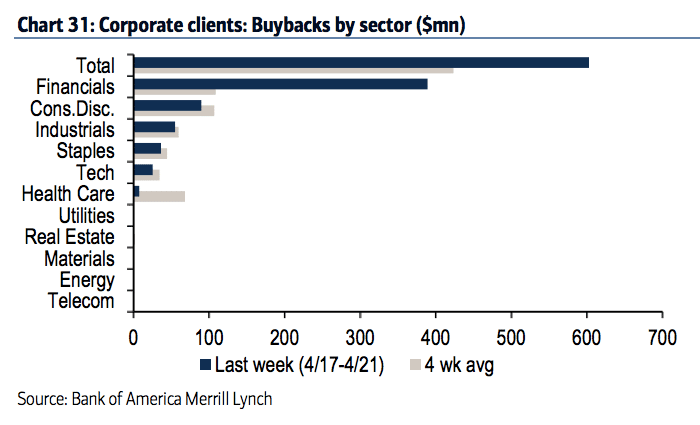 Josh here – as you can see, buybacks in the financial stocks were higher last week (makes sense, as Goldman, JPM, BAC and both Morgans all reported earnings), but down vs the 4-week average for all other sectors.
In 2014, you and I were probably reading one, maybe two articles per day about how buybacks were:
a) the only reason stock prices were going up
b) responsible for some / most / all of the EPS growth for the S&P 500
c) being used as a cover for insiders to get out of holdings
d) bad for the economy / market / employment / society (seriously)
e) destined to end, bringing the entire market crashing down in their wake
And while there may have been some kernels of truth to any of these complaints, you won't hear them brought up much these days. Like NYSE margin debt and quantitative easing, the buyback peak may already have come and gone, without the carnage and "you'll see" we were warned about so relentlessly coming to pass.
It's possible that all the screaming and handwringing about buybacks may have been for naught but the clicks.
Source:
Clients buy bond-proxies, sell everything else
Bank of America Merrill Lynch – April 25th, 2017