My friend Jon Krinsky (MKM Partners) is out with a new note arguing that the 5-month consolidation for small caps (Russell 2000) is about to be resolved with a big move in one direction or the other. Krinsky says a bullish breakout is more likely. Notably, it appears to be small cap growth stocks leading as opposed to small cap value.
I'll note that the small cap growth side of the Russell 2000 is comprised of 25% tech, 21% healthcare (think small biotechs), 16% industrials and 15% consumer discretionary (little chain restaurants and retail stores).
Amongst a blitz of charts on what's happening with small caps beneath the surface, I found this seasonal composite one to be interesting, showing a blend of the last eleven years of Russell Growth coming into the summertime:
While Small-Cap Growth tends to underperform the S&P 500 from March into late April, it usually sees strong outperformance into July. Of course this seasonal pattern is only an average of many different years, but it should be a tailwind for small-cap growth here and we think it can outperform into the summer.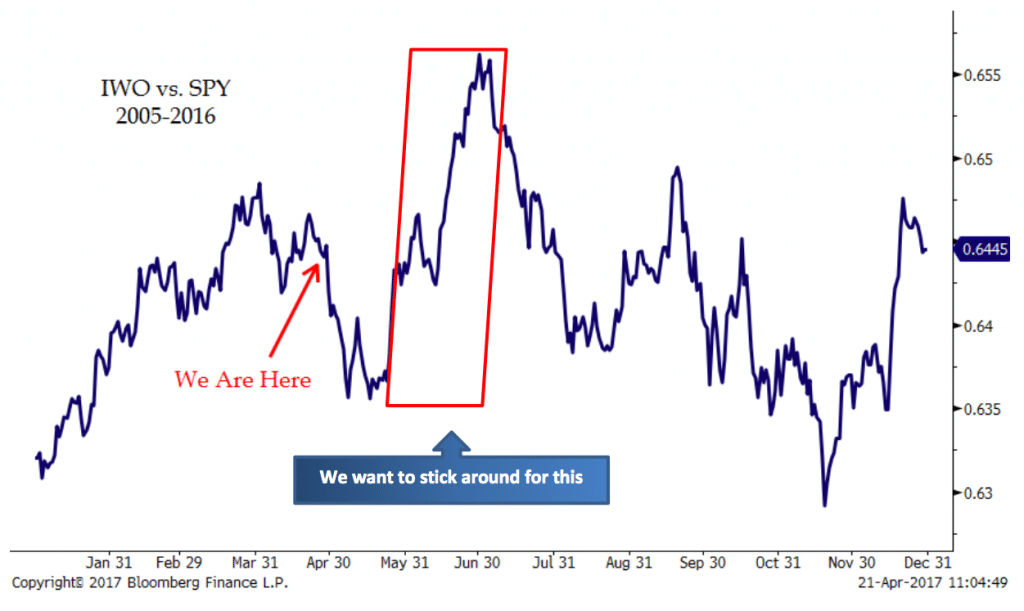 Will 2017 look like the composite? I'll let you know in a month or so 😉
Source:
A Big Breakout Coming For Small-Cap Stocks?
MKM partners – April 24th 2017