I'm getting very excited for the program we're putting on in California this June. We've been adding speakers and panels and the roster looks pretty amazing. More information about the Evidence Based-Investment Conference West below…
What if I told you that the most important investing event of 2016, the Evidence-Based Investing Conference, is now on its way out west this June?
What if I told you that it would be taking place over the course of 3 days at a world class resort along one of the most beautiful stretches of beach in America?
What if I told you that the confirmed speakers list includes Michael Mauboussin (Credit Suisse), Jeffrey Gundlach and Jeff Sherman (DoubleLine), Kevin O'Leary (O'Shares), Dan Egan (Betterment), Eric Balchunas (Bloomberg), Rob Arnott (Research Affiliates), Eduardo Repetto (Dimensional Funds), Blair duQuesnay (Thirty North Investments), Bob Seawright (Above the Market), Jill Delsignore (JPMorgan Asset Management), Perth Tolle (Life + Liberty Indexes), Morgan Housel (Collaborative Fund) not to mention Ben Carlson, Michael Batnick, Barry Ritholtz and I of Ritholtz Wealth Management?
What if I told you that S&P Dow Jones Indices, JPMorgan Asset Management, Invesco, FTS Russell, Van Eck and State Street will all be there as major sponsors?
What if I told you that this would be the networking event of the year and that it wouldn't be the same without you?
You'd want to be there, right? Here's how you can: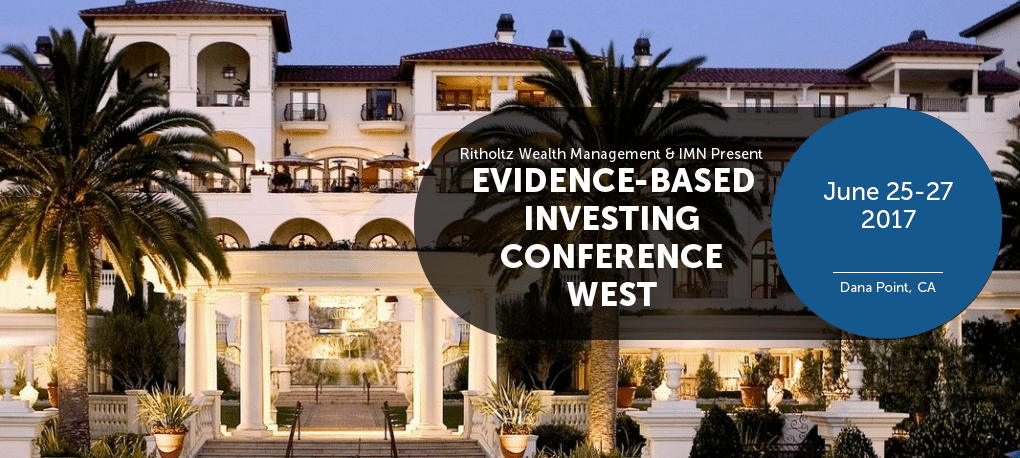 This June, the Evidence-Based Investing Conference makes its West Coast debut at the fabulous Monarch Beach Resort in Dana Point, California.

The idea of investing in an evidence-based way is sweeping the nation now, as strategies based on data take precedence over the old intuition-based methods of the prior generation. The trend increasingly appears to be a secular, rather than a cyclical one, as organizations and institutions rethink all aspects of their processes and philosophies.

By incorporating more reason and less guesswork, money managers and investment advisors are able to paint a more realistic picture of future outcomes and potential challenges to their investors. Assumptions about drawdown risk and return scenarios can be presented soberly and with more confidence than had been possible previously.

At EBI West, you'll hear from some of the investment industry's leading practitioners and thinkers about where the industry is, and where we're headed. Every professional who attends should be able to go home with innovative ideas and new ways to tackle old problems.

We had a sold out show last November in New York, and are very excited at the prospect of meeting more of you this June.

Josh Brown
CEO
Ritholtz Wealth Management