The latest note from Bridgewater's Ray Dalio tackles perhaps the biggest topic for markets today – the rise of populism around the world (or, at least, the crude impersonations of population).
Bridgewater's thinkers have constructed an index to measure this and the chart below:
To help get a sense of how the level of populist support today compares to populism in the past, we created an index of the share of votes received by populist/anti-establishment parties or candidates in national elections, for all the major developed countries (covering the US, UK, Japan, Germany, France, Italy, and Spain) all the way back to 1900, weighting the countries by their population shares. We sought to identify parties/candidates who made attacking the political/corporate establishment their key political cause.

Obviously, the exercise is inherently rough, so don't squint too much at particular wiggles. But the broad trends are clear. Populism has surged in recent years and is currently at its highest level since the late 1930s (though the ideology of the populists today is much less extreme compared to the 1930s).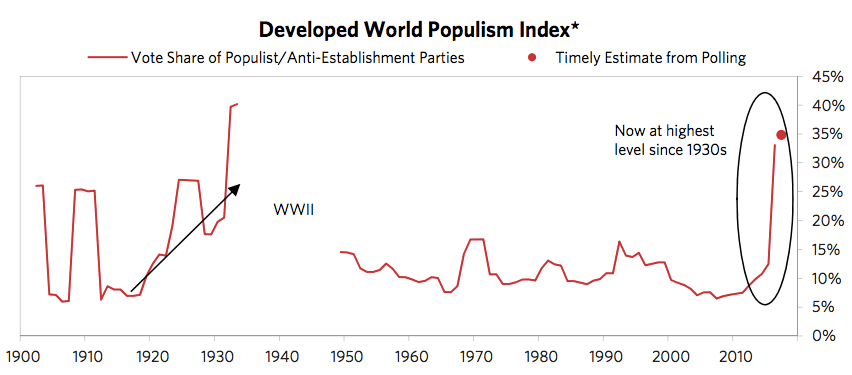 Try to get to the whole thing today for more about how Dalio's group is thinking about the ramifications of this.
Source:
Bridgewater Daily Observations, March 22nd 2017
hat tip Cardiff