Today is the 8th anniversary of the stock market's crisis bottom on March 9th, 2009 on a closing basis. It's also the 20th anniversary of the death of Christopher Wallace aka Notorious B.I.G.
This got me thinking about potential being limitless but life being limited, sometimes shockingly so.
From the very depths of the sell-off, the bounce was violent: a 40 day rampage of 34%, the biggest move of all time. Blink and you missed it. Read the headlines and you doubted it was the final low. But there it was.
Today in market history, 2009:

S&P 500 closes at lowest level since 1996. Over the next 40 days it jumps 34% – its largest move ever! pic.twitter.com/fWeVufIZts

— Ritholtz Wealth (@RitholtzWealth) March 9, 2017
The S&P 500 has climbed 254% since that day, almost a decade ago – and that doesn't include dividends. It has room to go a lot higher, historically speaking. Michael Batnick charts the other big bull markets of the past, from their lowest points, and finds that we may have not even gotten started yet: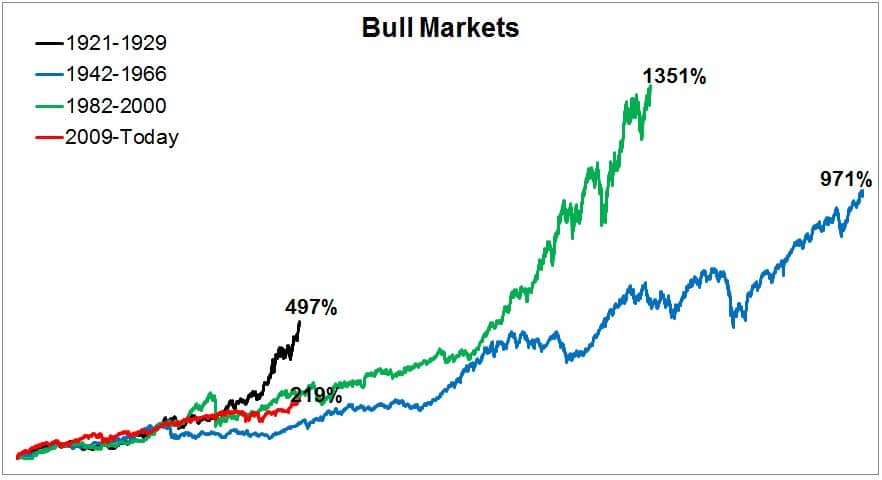 But the move off the lows of 2009 is not the story. The story is that, if this is a secular bull market, a la 1982-2000, then it shouldn't be dated from the lows but rather from the breakout to new all-time highs, just like we do from all the rest of history's secular bulls. That would put the start date roughly four years ago – the spring of 2013 – when we finally got above the 2000 and 2007 peaks in price.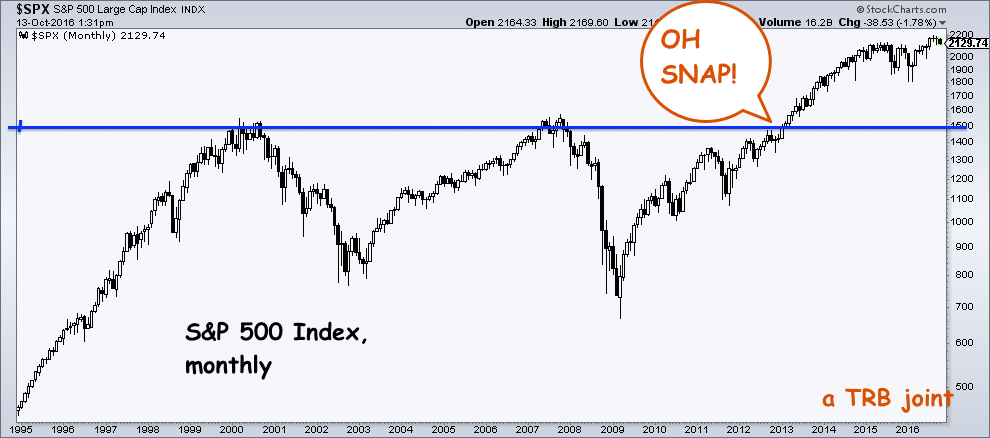 Here is what I said about this topic last October.
So it's entirely possible that we're just getting warmed up. It's also possible that, like the life of Biggie Smalls, the end could be right around the next corner. Investors need to be prepared for either possibility, rather than bet the ranch on just one or the other.
Nick Murray taught me that "the declines are temporary, the advances are permanent."
And Big taught me this:
RIP BIG