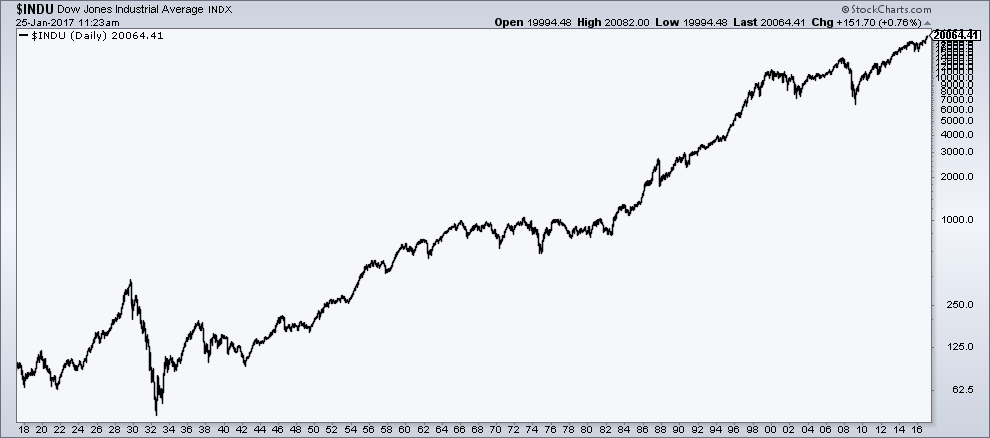 This is my Dow 20,000 post. There are many like it, but this one is mine.
I want you to reflect on how much could have gone wrong for the markets and economy that hasn't. The optimist will say "of course things turned out okay." The pessimist will say "just you wait."
The intelligent investor will say "it is what it is."
I also want to remind you how many ghouls and devils there are who have invested a substantial amount of their time and energy in attempting to scare you out of your investments. They have tried everything – misleading chart overlays, massive compendiums of frightening statistics, hyperbolic commentary, exhortations to pay them subscriptions so you can learn to churn your own account "like a pro", websites who will print anything to get you to click, and all other manner of devilry. If you've fallen prey to it – any of it – now is a good time to review the list of people you're paying attention to.
If you want to make it to Dow 25,000, the time to add the Ministers Without Portfolio to your Pay No Mind list is today. Do it now. Remember:
One thing I've learned in recent years, as a general rule, is that the more bullying and carrying on you see someone doing, the less relevant they are to what you're trying to accomplish as an investor.
And also this – there will always be the next thing to worry about:
The Dow has failed to break through 21,000. What does this mean for investor sentiment?

— Eddy Elfenbein (@EddyElfenbein) January 25, 2017
No one knows what will happen from here. But the Dow Jones Industrial Average has now gained more than 13,000 points from its low 8 years ago. There were many reasons for why this should not have happened. Many will tell you it wasn't deserved, for this or that economic or political reason.
But as Clint says in The Unforgiven, "Deserve's got nothing to do with it."