Just going through some research today as the holiday draws to a close. My friend Ari Wald, Oppenheimer's market technician, laid out his top ten important numbers for 2017. His biggest investment theme for the coming year has to do with the recent push higher in "high beta" stocks versus the overall market. The irony here being, of course, a massive investor preference for "low beta" or "low volatility" stocks throughout 2016 according to all of the fund flow data.
Like all factors, low vol has had its moment for a time, but a rotation into its opposite – which is already in progress – would be perfectly natural. Especially given the popularity that low vol has enjoyed pretty much uninterrupted throughout the decade so far. Ari notes that high beta tends to perform well when commodity prices and rates are moving higher.
Our "must-own" theme for 2017 is High-Beta based on a reversal of five-year downtrend vs. the S&P 500. This is in accordance with our bullish S&P 500 outlook and relative preference for the Technology, Industrials, Financials, and Energy sectors. A sharp downward reversal in the 10-year US Treasury yield and/or the price of WTI Crude Oil is the key risk to this view due to the positive correlation between these assets and the relative performance of Financials and Energy (60% of S&P High Beta), respectively. Separately, from a near-term trading basis, we think S&P 500 weakness into 2200 support (50-day m.a.) should be bought.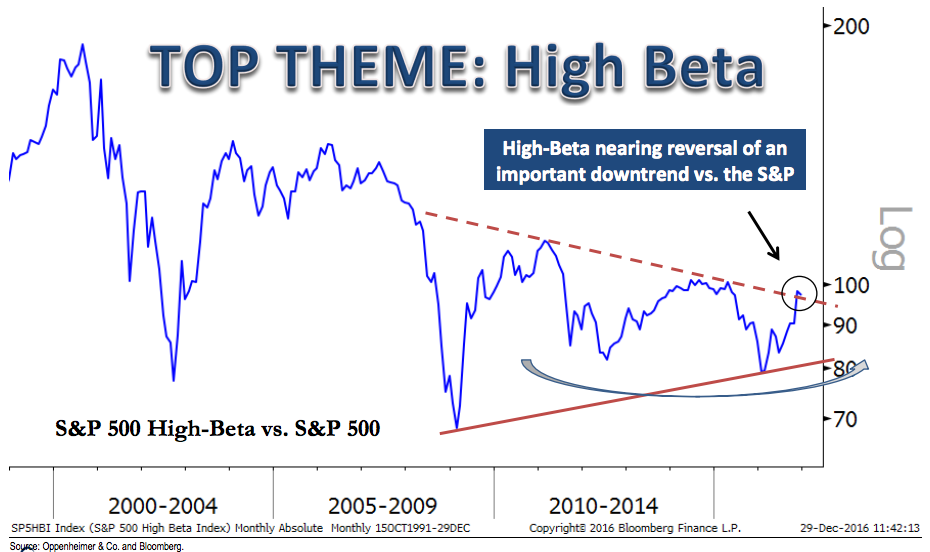 Josh here – I'm speculating, but I'd assume Ari agrees with me that the recent trendline break in high beta vs the index doesn't necessarily mean it trades up in a straight line. Relative charts like the one above are helpful in that they indicate investor preference for a given theme or sector net of all the noise from day to day market swings. Flows typically follow once the relative trend / outperformance becomes obvious to everyone.
Source:
Technical Analysis: Inflection Points
Oppenheimer – January 2nd 2017