Prior to Nov. 8, analysts were issuing dire warnings about what could befall markets across the globe should Donald Trump pull off a surprise upset in the U.S. presidential election.

Fast forward to three weeks after the election, and the U.S. stock market is continuing to hit record highs. And even while analysts are scrambling to decode the impact the President-elect's campaign promises will have on their respective sectors, they're assuming a vastly different tone.
The media is interested in the question of how The Street's chief strategists can now be selling President Trump as a reason to be so bullish after telling us that President Trump was likely to lead to a crash or correction.
The answer to this question is sentiment, which always follows price. Prices went up, so sentiment changed. What once was bearish and scary is now bullish and exciting.
Animal spirits have been awoken in the US stock market. It may not last long, but it's undeniable. The initial burst of re-certainty after the election consolidated, and in its wake, a new leg higher emerged – mostly predicated on the idea of massive tax cuts and stimulus plans. If only the President had the ability to wave a wand and make both things happen all at once…
But Wall Street's seers are pumped. Part of it is the fact that it's so nice to have a new story to tell that doesn't involve the Fed or stock buybacks and dividends. Part of it the same old fear of being left behind. And part of it is wishful thinking. Which is not necessarily a negative.
Savita Subramanian's Equity and Quant research team at BAML note that we've just seen the biggest jump in sell-side sentiment in a year:
In November, the Sell Side Indicator — our measure of Wall Street's bullishness on stocks — jumped by 1.6ppt to a six-month high of 51.5, its biggest increase in over a year. As a result, the indicator is close to breaching the threshold that would trigger a "Neutral" signal, after spending the last six months in "Buy" territory. While sentiment has improved significantly off of the 2012 bottom — when this indicator reached an all time low of 43.9 — today's sentiment levels are still well-below last summer's high of 54.0 and where they were at the market lows of March 2009. But the post-election bounce in Wall Street sentiment could be the first step toward the market euphoria that we typically see at the end of bull markets and that has been glaringly absent so far in the cycle.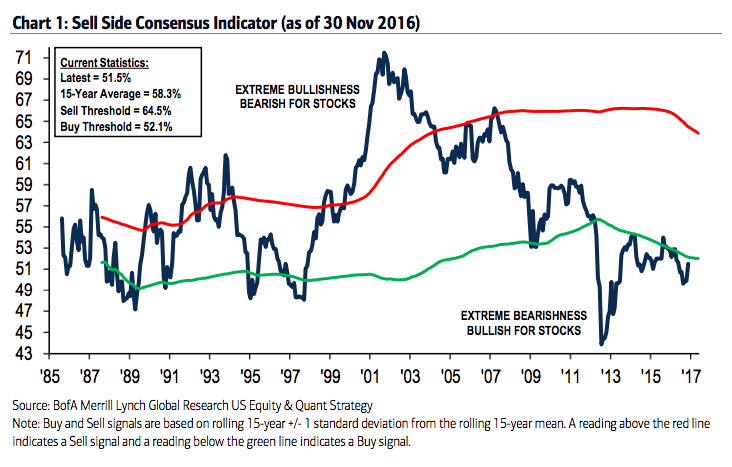 Josh here – we have a radically inexperienced president-elect assembling a transition team and announcing bold new initiatives and promises. He tweeted his way into office and won when no one serious thought he had a chance. The incoming Treasury Secretary was on TV talking about "3 to 4 percent GDP growth next year."
When outrageous things happen, all of a sudden there can be a sense that many other outrageous things are also possible. This ignites imaginations and gets the creative juices flowing. If this sort of thing extends beyond the speculators in the stock market into the actual C-Suites where spending and investment decisions are made, then it becomes self-fulfilling and it could actually work. If it doesn't, well then at least we'll have some fun in the meantime.
Over the last five months, small cap stocks are up 15%. The stocks of oil and gas producers are up 23%. The stocks of regional banks are up 40%. Do we believe that the fundamentals of thousands of small cap companies or hundreds of energy companies and banks have improved by 15, 23 or 40%? Of course we don't. This is the role that sentiment plays in the stock market. There's no equation. No formula.
Animal spirits cannot be modeled.
They can't be foreseen or managed either. We cannot know for how long they'll run on for or what might dissipate them. We can only accept that they are a part of the game, coming and going at uneven intervals, spreading joy and pain in their path.
Source:
The road to euphoria begins with optimism
Bank of America Merrill Lynch – December 1st 2016