These are the ten biggest names in the S&P Metals & Mining ETF, XME: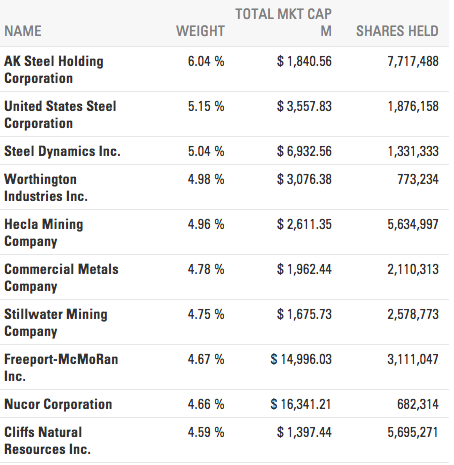 No one talks about these stocks because they're boring companies in filthy businesses in a world of subpar global GDP growth and collapsed cross-border trade. This has been the case for a long time as China has sought to reorient its economy away from massive infrastructure projects and the west dabbled in austerity policies.
But now China has turned back on the spigots and developed economies in the west are talking loudly about fiscal stimulus instead of relying on their respective central banks to put themselves over the hump. In the meanwhile, mining and grinding capacity has shrunk around the world as both projects and equipment have been neglected.
It's worth looking at price action when considering whether or not the market is now reconsidering its deflationary funk and the certainty about endless supply gluts.
In absolute performance, the XME has posted an average annual decline of 8.5% over the last 3 and 5 year periods. It's lost 3% a year over the last decade, which is unbelievably bad.
But year to date the XME is up 79%, in absolute terms. The more interesting story is what happens when you look at it relative to the S&P 500.
Below, my ratio chart of the XME vs the SPY. Ten years of underperformance. A long-term downtrend now being snapped, the year to date gains being consolidated. RSI confirming strength.