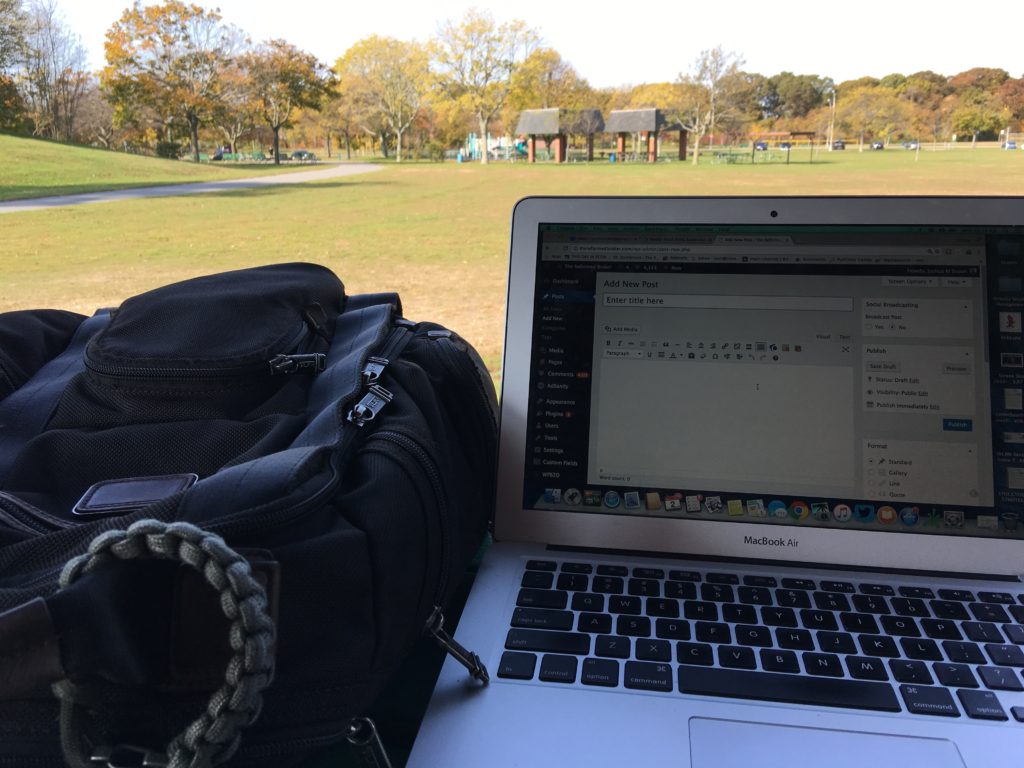 I  walk around Manhattan with a twenty pound bag on my back most days. I never go anywhere without my laptop, my iPad, some charging cords, a backup battery, some pens and my headphones. I never know when or where I'll have the opportunity to work or the inspiration to write.
I'm a blogger.
It's not a hobby or something I do in my spare time. It's the essence of what I am. I uncover interesting things worth thinking about or discussing with others. I come up with new ways of conveying ancient ideas and eternal truths. I reach out across the aether and connect with you, sharing what I've found, imploring you to see it my way and empathizing when you don't.
I generate the sparks. Most times they burn bright for a moment or two and then they're gone. Next day, next post. Sometimes they create a fire. You may like the fire and come closer to warm your hands by it, to see more clearly in its illumination. You may abhor it – a blaze that threatens your preconceived notions, your business model, your livelihood. I've been praised and scorned for both. Sometimes I walk into a conference, my head held high, signing autographs or posing for selfies. Other times, I'm forced to sneak through the Financial District in lower Manhattan with my head down, looking over my shoulder for someone I've offended with my opinions and diatribes.
Bob Marley said "The people that are trying to make the world worse never take a day off, why should I? Light up the darkness". David Tepper said "It is what it is." My attitude is somewhere in between.
Today is the 8th anniversary of The Reformed Broker blog. I've done over 11,000 posts here not counting the thousands of contributions I've made to the Wall Street Journal, CNBC, Forbes, Fortune and beyond. They're not all good. They're not all perfectly accurate or particularly important. On its own, each individual blog post doesn't stand very tall or account for much heft. Even the big ones.
But as a whole…as a body of work…I hope that what I'm doing here is consequential. I'm told it is helping, has been helping, that it is serving a critical function in the ongoing effort to make investors better at investing.
I need these assurances and words of encouragement. I hear them in convention centers and hotel lobbies and conference halls and airports and baseball stadiums and bars and restaurants all over the country. I get them in emails and tweets and direct messages and letters and postcards and even phone calls. I even get the occassional gift.
The positive comments and thank you's still outweigh the complaints or smears by a hundred to one. A ratio less than that might have me slippin. Second-guessing myself and my role in the conversation.
I wasn't born with good looks or athletic ability or a particularly outgoing nature. I didn't have any family connections in the financial industry and I certainly didn't take school seriously enough. When you start out as a loser who knows deep down that you're really meant to be winning, you can go one of two ways: either develop a sparkling personality or descend into a mire of abject negativity.
Being able to read people and communicate effectively is all I have in this world. I'm fucking good at it. My deepest insecurities involve somehow losing this ability or seeing it diminish. You should know that when you read something I've written and say something nice about it, or even respectfully disagree, it goes a lot further than you think.
Since I began the blog, in November of 2008, I've seen empires rise and fall. Bernie Madoff and Lehman Brothers and Bear and AIG and Citi and MF Global and dozens of famous hedge fund emperors laid low for all the world to see. Bankruptcies and investigations and fines and fallings out and all manner of denouements worthy of Shakespeare's greatest tragedies. These giants who had everything, had to stretch for just thing more. "Whom the gods would destroy, they first make mad."
I've seen the largest financial advisory firms struggle to figure out what business they'll need to be in to survive the future; making ransom payments to existing employees just to keep their assets and clients captive for a bit longer. "Give us time." 
I've seen hundreds of billions of dollars ripped away from the most established and storied franchises in the asset management world. A constellation of once-bright shining stars blinkering out across sky. Formerly untouchable brands tarnished and trashed beyond recognition. Fortresses leveled and castles disintegrated, washed out to sea on the ebbing tide. Reputations crumbled and emperors defrocked. Formidable advantages turned into insurmountable obstacles.
I've chronicled it all here, every twist and turn in the action, every day for eight years. And my takeaway is that royalty, in this business, is overrated. Finance is in a constant state of flux and change is the only permanent thing about it.
The pursuit of hegemony is a trap. No one keeps it for long and, while they have it, they're the people having the least amount of fun. Cicero:
'So, Damocles, since this life delights you, do you wish to taste it yourself and make trial of my fortune?'

When Damocles said that he desired this, Dionysius gave orders that the man be placed on a golden couch…there were unguents and garlands; perfumes were burning; tables were piled up with the most select foods. Damocles seemed to himself fortunate.

In the middle of this luxury Dionysius ordered that a shining sword, fastened from the ceiling by a horse-hair, be let down so that it hung over the neck of that fortunate man.
Very quickly, the sycophant Damocles begs the tyrant Dionysius to release him from all this good fortune.
The Reformed Broker has been a one-man mission to get a little bit smarter and a little bit more informed each day. To take the things that I'm learning and share them with all of you, in an entertaining and enlightening way.
And to do it with a point of view, sometimes out on a limb and sometimes risking the possibility of having to publicly change my mind and admit I've been wrong. Some days I succeed at this and some days I don't. You've been incredibly supportive during the former and tirelessly patient with me during the latter. I think you know that the effort is always there, even if the result falls short.
Kings will come, riding the success of their latest market call or Greatest Trade Ever. Kings will go, carried out of the markets feet first or stranded atop their tower as the siegecraft of the invaders tears a rent in their walls.
And when the smoke clears and the sun comes up, I'll still be here. Twenty pounds of posting and publishing equipment on my back or in my lap. Telling you how it is and how it might one day be. Maybe from the back row of a hedge fund conference or from a westbound commuter train barreling its way through anonymous Queens. Maybe I'll be coming to you from a park bench or an airport Starbucks or from my office on Park Avenue.
During the first season of Showtime's 'Billions', a character is derided for once being a highflying trader and now being out of the game. "What is he doing now? He has a blog." the antagonist sneers.
I had to smile. They don't get it.
KRS-One: "Kings lose crowns, but teachers stay intelligent." 
On my 8th anniversary of writing about markets, investing, finance, the economy and life, I have just one request: Stick with me, guys – like you've stuck with me all this time. If you do, I promise, I won't let you down.