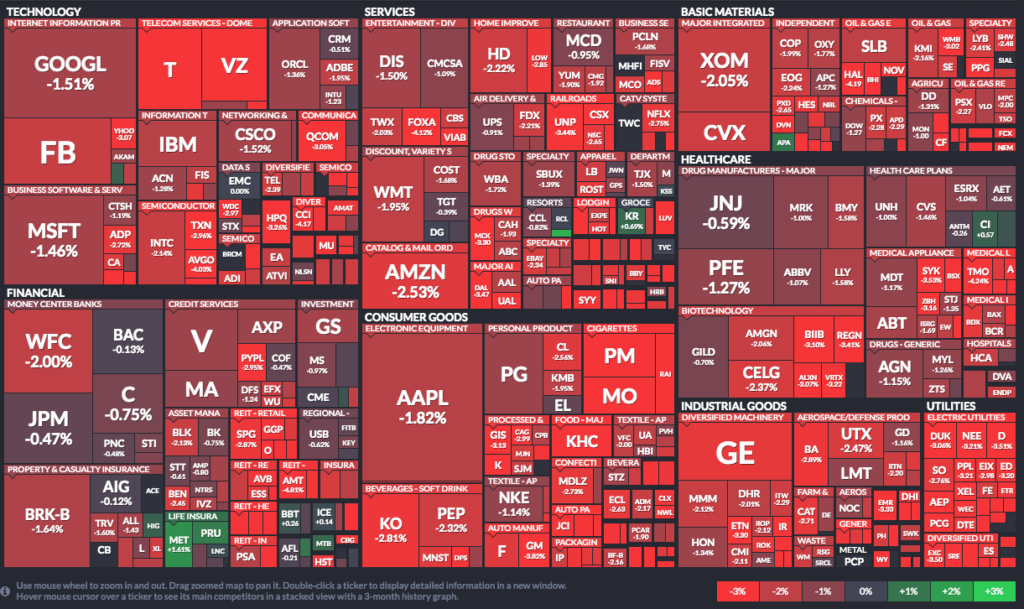 Well, we had a good run, I suppose.
Ben & Jerry's was pretty great. Friends and Seinfeld, at one time, were on the same network, on the same night of the week! It was called "Must-See Thursday" on NBC – Google it! Candy Crush was kind of cool. I liked going to the carwash and stadium seating at movie theaters and Blink 182. Also, Popeye's fried chicken – waaaaay underrated.
Oh well. That's all over now.
A lackluster response to the latest comments from the ECB's Mario Draghi, followed by the usual scary sh*t from Jeff Gundlach and then some f***ing librarian at the Fed named Rosengren (spelling?) opened his mouth and now here we are. Looking at the first 390 Dow Jones points down of what can only be another 7000-point, generational massacre. I think that much is pretty clear.
The only question is whether or not you should bring the recycling bin back into the house and start doing some of your own composting for the upcoming Second Agrarian Age. One more Vix spike and we'll all be subsistence farmers.
Try to enjoy the weekend (potentially your last).
OK, I'm just kidding. I don't sell newsletter subscriptions.
My best guess as to what's going on is that the markets are repricing in the possibility of the Fed hiking in September. All the Fedheads seem to be talking tough again, and yields are spiking. The TLT trouncing, which actually started yesterday, caught up to all the bond proxy equities (REITs, Staples, Utes, etc) and then it spilled over into the general population. And a lot of the action you saw into the close was machines doing what they were programmed to do: lay off risk when everyone else is. This exacerbates things a bit and removes a lot of the sentient, human element that old school tape-readers used to see.
No big deal. A best case scenario is that this continues for awhile. It's been 51 sessions since we've seen a 1% move for the S&P 500 – from June 27th (pre-Brexit!) through yesterday. That's over now, and with it, the complacency. You need the downs in order to get the ups. I told you this last summer, almost to the week. It's still true.
And if we are to experience a correction (a drawdown greater than 10%), it would be the second one this year and the umpteenth in your lifetime. NBD. You're welcome to interpret the return of normal volatility as the start of a crushing bear market / economic apocalypse, but the probabilistic data from history would not be on your side.