I'm out all day at a Dimensional Funds applied investment workshop in midtown but I wanted to check in with something cool we're discussing…
David Plecha, the global head of fixed income at DFA, doesn't believe in the bond market "liquidity crisis" meme that the newspapers like to trot out every few weeks.
Rather, he views what's going on as an evolution and not a crisis or a problem – the fixed income market is about 20 years behind the stock market's evolution but headed in the right direction. Peer to peer trading between buyside shops is the future and the new source of liquidity. These days, buyers can also be sellers and anyone can submit a quote for bids or offers.
The dealers' role, meanwhile, is changing to more of a frequent trader rather than an inventory provider / middleman.
What's actually going on is that volume in the bond market is high, back to where it was pre-2008 crisis. This is counter to the narrative you typically hear from disgruntled dealer desks and reporters.
What is very different is that dealer inventories have shrunk considerably. This is because of capital requirement rules like Basel III that force banks to be less leveraged and to carry less risk. Banks have responded by shedding inventory and turning over their supply of bonds more frequently. Trading velocity is way up. Dealers are buying and turning around quickly to make a sale.
Here's what it looks like: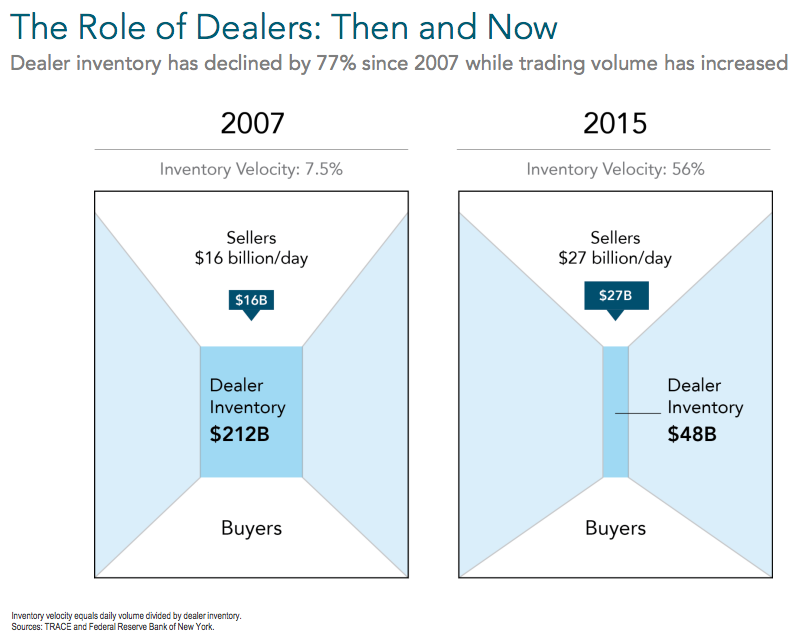 The next time you hear someone say "bond liquidity crisis", show them this.
Okay, see you tomorrow.
Source:
Dimensional Fund Advisors
August 2016