Here's the latest – Faber says the S&P 500 is set to crash 50%. Okay, it's happened a handful of times before over the last century, I suppose it's possible. Is it probable?
I wrote a book about the history of market calls and outrageous stock market punditry. In the course of my research (which encompassed 300 years of market history back to the South Seas Bubble), I came away with a few important takeaways:
– No one who called any of the big ones was able to also call the recoveries, or even the next crash
– Lots of people have historically gotten credit for major crash calls, because all of their previous and subsequent calls were forgotten about
– It's pretty easy to get on a soapbox and say that horrible things "could" happen
– The uber-bulls are just as bad – notably outlandish upside targets for the Dow Jones have all occurred at major tops
– It's harder to admit that the future is unknowable – and it's much less marketable
– It is irrational to be constantly worried about low-probability events – and a long-term money loser of a strategy
– The best investors in history focused their time and energy away from attention-grabbing predictions
With that preamble in mind, I direct you to today's chart, which comes to us from my friend Jon Boorman. You may click on it to embiggen the image: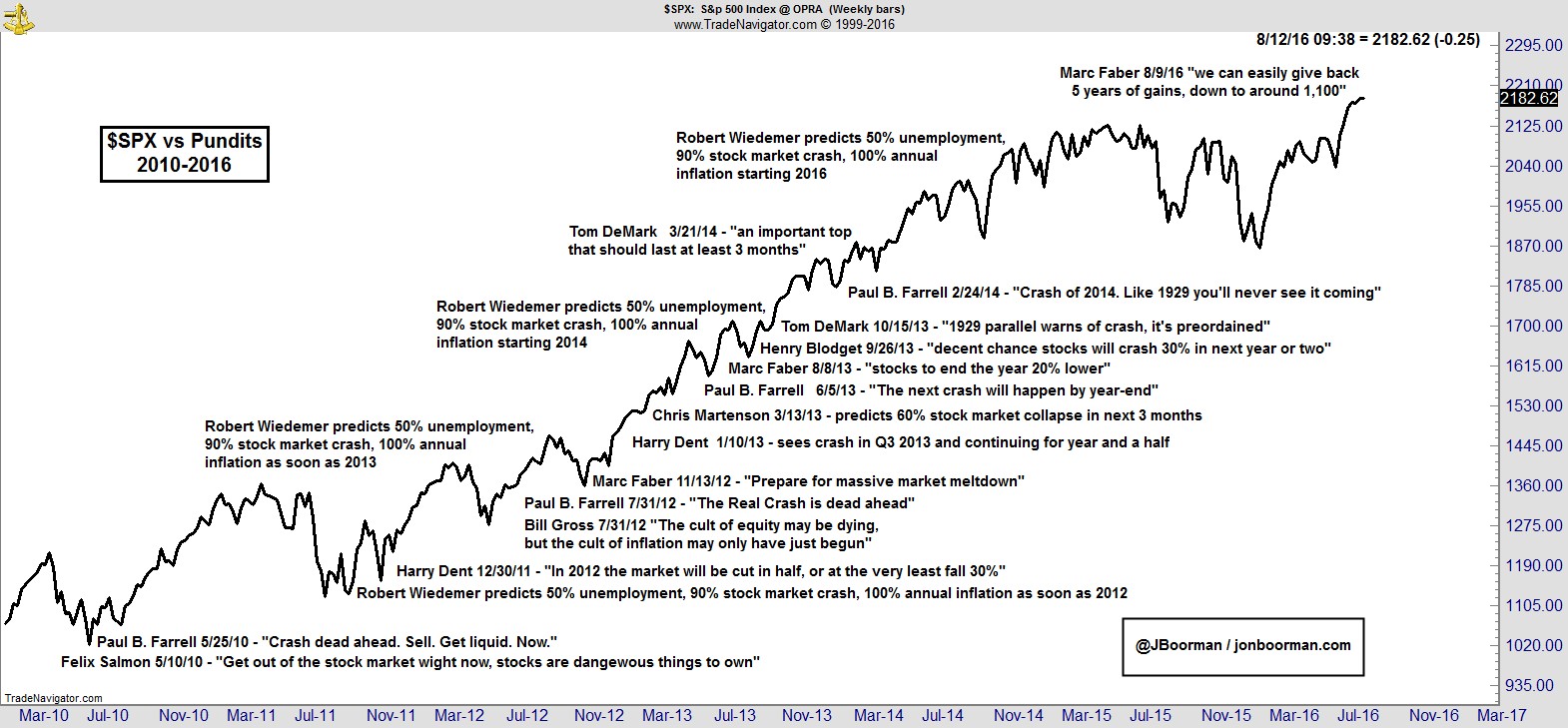 Maybe, instead of making repeated pronouncements based on nonsense, it would be better to just STFU for a little while. Professionals laugh at this stuff but mom & pop investors normally don't have as much context and are more susceptible to crash calls and being scared out of their portfolios.
And now, my prediction: Average annual returns somewhere between 5 and 10% for the S&P 500 over the next 30 years, punctuated by drastic sell-offs and brutal bear markets here and there, which serve to reward the best investors and punish the emotional ones. After all, the stock market must go down from time to time. Otherwise, there would be no premium return available for those who choose to persevere.
My book, Clash of the Financial Pundits, available here if you haven't read it yet.