My friend Jon Krinsky is out with another blazing set of charts this week for MKM Partners. He highlights several trends happening beneath the surface that aren't exactly making the headlines – but should!
For one thing, he notes an impending breakout attempt for the bank stocks above their multi-year downtrend after a consolidation period that began in 2013. Insurers, Broker-Dealers and Diversified Financial Services industry components all like they're ready to wile out.
Additionally, Jon takes a look at European Bank CDS falling (this is a positive, means less fear of the system), high beta/ cyclicals working versus low beta "bond proxies", as well as the relative weakness in STUB sectors (Staples, Telecom, Utilities have all sold off since the July 4th break, while the market has broken out). If you're a bull, this is what you want to see. If you believe in karma, you definitely want to see the Low Vol mythology lying in tatters too 😉
My fave chart in the pack is small caps versus large caps. Breadth has been the unsung hero of this summer's market environment as the rally has broadened out across sectors and cap-sizes.
Here's Jon: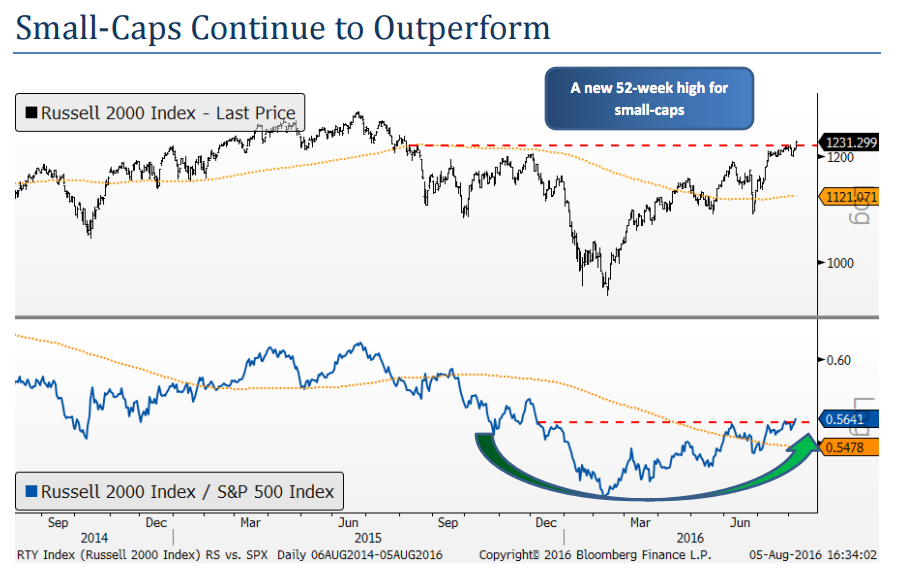 Josh here – Yes, that's a new 52-week high for the Russell 2000 and an impending break of the downtrend in terms of small vs large. While many take their clues from a dizzying array of revision-prone economic data, I choose to focus on price to understand what's happening. And in doing so, I find more reasons for optimism than pessimism.
A simultaneous rip higher in cyclicals, high betas, small caps and financials doesn't suck.
Source:
Here Come the Financials
MKM Partners – August 7th 2016