S&P Dow Jones Indices is out with their latest SPIVA release, which looks at the last five years of active management across the entire mutual fund and institutional account universe. The two charts below show what percentage of institutional managed accounts outperform in each category. They're attempting to gauge how much fees matter by looking at institutional managers, where the costs tend to be lower than for mutual funds.
The lede is that there isn't much of a benefit, on average, despite the lower costs to the end-investor.
On a gross-of-fees basis, the numbers look much better of course. Unfortunately, investors cannot eat gross-of-fees returns. It should also be noted that when adding in the impact of taxes at the individual level, the numbers deteriorate even further.
On the equity side, SPIVA notes that over the last five years:
Over 76.23% of mutual fund managers and 85.81% of institutional accounts in the large-cap equity space underperformed the S&P 500®.

Similarly, in the mid-cap space, 65.81% of mutual funds and 64.71% of institutional accounts underperformed the S&P MidCap 400®.

In the small-cap space, over 80% of managers on both fronts underperformed the S&P SmallCap 600®. The findings in the small-cap space dispel the myth that small-cap equity is an inefficient asset class that is best accessed via active management.

Managers investing in international equities and international small-cap equities fared better than their benchmarks when measured using gross-of-fees returns. The findings are consistent for mutual funds and institutional accounts.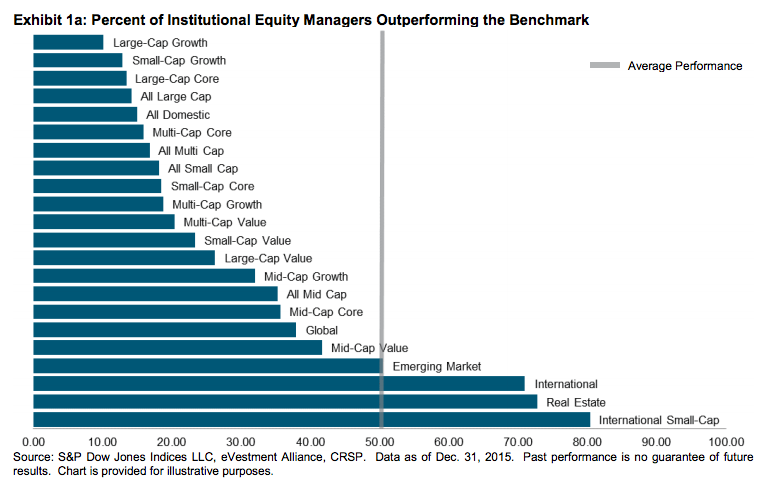 Turning to fixed income, SPIVA says the news is a little better for institutional managers:
the findings were mixed depending on the market segment. Institutional managers showed strength in U.S. spread products such as mortgage-backed securities (MBSs), investment grade corporate bonds, and leveraged loans, outperforming their respective benchmarks.

The municipal bond market was the only space in which we saw a significant performance divergence between institutional accounts and mutual funds directionally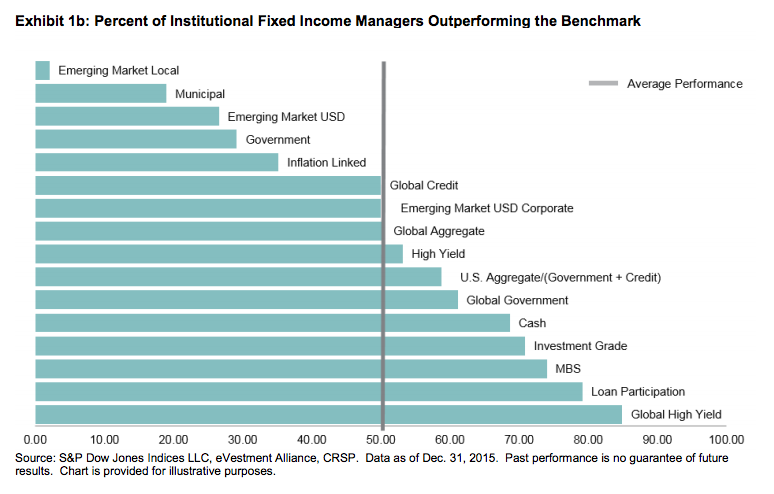 You should probably make time to check out the whole study:
How Much Do Fees Affect the Active Vs. Passive Debate? (SPIVA)