Here's LPL Research's Burt White and Jeffrey Buchbinder with an important breakout not many people are discussing – US economic data is now surprising to the upside, after a year and a half of negatively-skewed reports…
The Citigroup Economic Surprise Index, or CESI, tracks how economic data are faring relative to expectations. The index rises when economic data exceed economists' consensus estimates and falls when data come in below estimates. After an 18-month stay in negative territory, the July 8, 2016 reading put the index above zero [Figure 1]. Economic growth has not picked up during this time period but the data have been better than expected, supporting stocks during their recent ascent—including the month since the Brexit vote in the U.K.—highlighted by the June Institute for Supply Management (ISM) Purchasing Managers' Index (53.2 versus 51.4 expected) and the June Employment Situation report (287,000 net new jobs versus 175,000 expected).
Why does this matter?
More data beats than misses is an encouraging sign for stocks. Over the past 10 years, when the CESI breaks above zero (14 instances), the S&P 500 was higher over the subsequent 6 months 79% of the time with a median gain of 5.2% (the average is lower, dragged down by a 35% drop in 2008). Excluding the Great Recession, stocks rose in 11 of 12 instances with a median gain of 6.3% (and an average of 6.9%) over the subsequent 6 months. We have also observed better performance from the more economically sensitive sectors in these scenarios. Both good signs.
One of the lessons I learned from Dimson, Marsh and Staunton (London Business School) about the relationship between stock prices and the economy is that it is not a linear one – faster growing economies do not equal better stock returns. Rather, it is the degree and direction of surprise relative to expectations that determines the stock market's reaction, good or bad. This explains the Brazilian stock market's nearly 60% advance year to date – expectations were too hideous for the reality, which is bad, just not as bad as feared. Russia too.
Anyway, the Citigroup Economic Surprise Index (or CESI) for the US broke down in early 2014 and then went negative that summer. A few months later, and probably not coincidentally, the broader US stock market began a rounded topping pattern and all but the largest stocks stopped going up (remember the Nifty Nine and FANG?).
Using the CESI chart and the Russell 3000 index (combines the Russell 1000's large / mid caps with the Russell 2000's small caps) in the charts below, I show this story playing out. Pay particularly close attention to the peak of the surprise index and what stocks have done since. On July 8th, CESI broke positive and the broad stock market ran through new highs right behind it.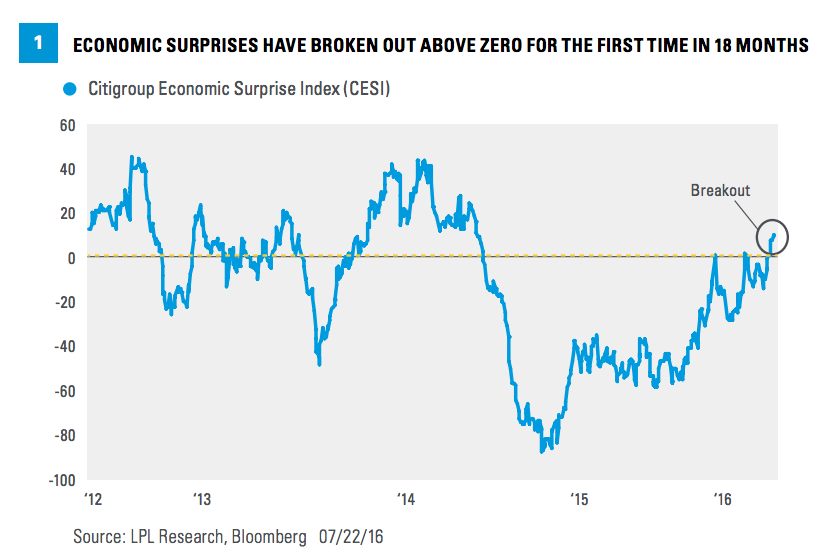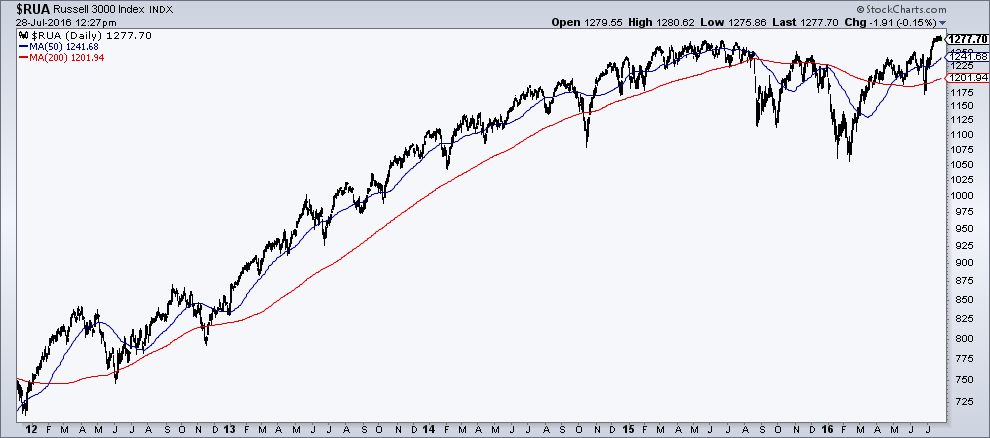 Will the upside surprises keep coming? On Friday, we get a 2nd quarter GDP number that could certainly come in hotter than expected. 2.6% is the bogey…
Source:
Breakout
LPL Research – July 25th, 2016