285 trading days in the wilderness.
A will they or won't they story rivaling Ross & Rachel.
And then it happened…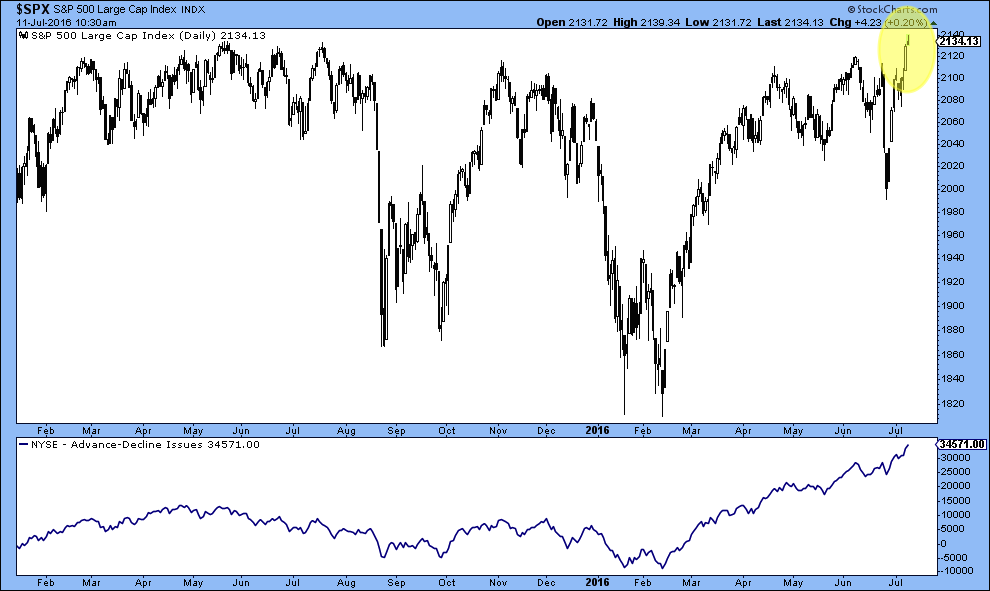 This is extraordinary, if you believe in the linear connection between headline news and markets. All the same old fears serve as the hideous tableau against which this new all-time high has been printed. But there's nothing new to say – stocks have been talking over the naysayers for almost 8 years…
Please don't dominate the rap, Jack
if you got nothing new to say
If you please don't back up the track
This train got to run today
It probably shouldn't be running, according to the rap.
Small caps haven't kept up. Growth stocks are trailing. The leadership – utilities, staples, low-vol, defensive – it's all wrong. "Not what you want to see leading a rally." International stocks are deteriorating. The banks don't look healthy. The mutual fund flows are all negative, for months and months at a time. "The only buyers are corporations doing share buybacks." Inflation expectations are crashing. Bond yields are "disagreeing, telling us something." Commodity weakness too. There's political uncertainty in Europe. In the US, two of the most unlikeable candidates in history fighting for an office they're "not fit to hold."
These are the things that have kept us at a standstill for years. Breakouts failed and breakdowns failed too. Lingering at the top, in limbo.
Spent a little time on the mountain
Spent a little time on the hill
Heard some say better run away
Others say you better stand still
And if bonds were sending mixed signals, what about the other risk-off signposts along the way? The awakening of the precious metals complex, surely, was telling us the rallies were a falsehood.
Now I don't know but I been told
it's hard to run with the weight of gold
And the problems of this world, the issues that kept us hemmed in all this time, are by no means over. We still don't know the ramifications of negative interest rates around the world. Of the Brexit vote and it's echoes in nationalistic movements across the Continent.
Things went down we don't understand
but I think in time we will
Also, it's worth mentioning that the market has been rejected at these levels (or just below) several times before. Is there someone coming in higher to buy? Is anyone left?
Do we keep on coming or stand and wait
with the sun so dark and the hour so late?
Or is it all just T.I.N.A. – There Is No Alternative – with nothing else to back us up for a new leg higher?
You can't overlook the lack, Jack
of any other highway to ride
It's got no signs or dividing lines
and very few rules to guide
Perhaps there is. The hundreds of billions that have been redeemed and withdrawn and pulled out. We know where that money went. To cash. To bonds. To other yielding instruments. Anything but stock funds. Perhaps the return to sanity – a newfound disgust at the prospect of funding a sovereign government at a guaranteed loss, drives flows back in to productive assets. Would that be enough to keep us chugging?
I don't know but I been told
if the horse don't pull you got to carry the load
I don't know whose back's that strong
Maybe find out before too long
Against all odds, sentiment, common sense and historical precedent, we're here. We broke through, even if just for the moment. The handmaidens of the bull market – Disbelief, Sardonicism, Anxiety – are on the verge of rending their garments. They've hurled all their defamations and disparagements already, to little avail.
One way or another
One way or another
One way or another
this darkness got to give