In technical analysis, when you hear the term bullish engulfing pattern or bearish engulfing pattern, what they're talking about is a candlestick chart – usually a daily – where today's low price and high price are below and above the high and low of the previous day. If the close is higher, it's a bullish engulfing pattern. It's a bearish engulfing pattern if the candle resolves lower. This can also be referred to as an positive or negative outside day, which many traders call a "reversal pattern", meaning it has the potential to change the prior trend.
In a new note this morning, Citi's technicians look down at a variety of asset classes from 10,000 feet. On the yearly S&P 500 chart, they note that we're likely going through a consolidation that leads to higher prices once resolved. Further, they note that 2016 has the potential to be a "bullish outside year" for the S&P 500 – meaning the highs and lows for this year's candle are both outside of 2015's range, with a close above last year's high.
If this were to happen on the candlestick for 2016, it would be only the 3rd time in history the S&P 500 posts a positive outside year. The last instance was at the start of a dramatic bull market for stocks – 1982 – when 16 years of brutal consolidation were finally shaken off and the 1966 top was left in the dust.
Here's Tom Fitzpatrick & Co: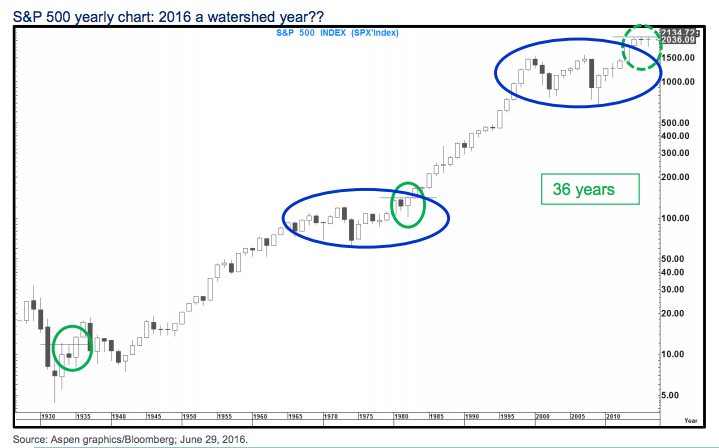 While the bar is very high there is a chance that the S&P 500 could post a bullish outside year for only the 3rd time since 1935. The other 2 years were 1935 and 1982. They were followed by 28% and 17% up years respectively (Albeit 1937-1942 were not "pretty years" for a variety of big picture reasons.)

The period we remain most closely focused on is the 1982 bullish outside year. This followed a tumultuous period from 1966-1982 in the economy/housing/equity markets/Oil and geopolitics and was the start of a resumption of the long term uptrend.

Today the S&P sits just 31% above the high posted 16 years ago in 2000. In 1982 it finished the year just 50% above the 1966 high and then proceeded to post another 7 up years in a row. In 1982 the DJIA closed the year just 5% above the 1966 high (also posting a bullish outside year). This time around it is 48% above the 2000 high and could not post a bullish outside year as it did not trade below the 2015 low (At this point). A yearly close above 18,351, if seen, would still be a bullish outcome.
Worth considering.
Source:
Weekly Roundup: A 10,000 foot view of financial
CitiFX – June 30th 2016