European bank stocks are the big equity wreck that everyone has their eyes on. And rightfully so – these securities are now trading back to levels not seen since the late 1980's!
Here's Eric Peters, writing in his excellent weekend notes piece:
Europe slumbered, greatness slipping its grasp, its lofty ambition – the power of union – now weighted down by the everyday. "I will only note once more the critical need to restore clarity and confidence on the institutional setup of the euro area," slurred Draghi, punch drunk. European banking stocks returned to 20yr lows, the ECB buying corporate bonds, the latest sniff of smelling salts…

"Someone told me the ECB's buying corporate bonds," said Lithium, hands-free on Highway 1. "I don't even pay attention anymore, I tune it out, they have no idea what they're doing," he said, working into a rant. "No one is serious about getting growth up, or boosting populations. No one's willing to do what it takes." Buying corporate bonds doesn't put money into people's pockets. "You're taking yield out of the market that savers could have earned." Pension plans, retirees. "So now they're all panicking, chasing yields to zero everywhere."
I had a similar conversation with Tim Duy this morning, one of the first economics bloggers and the original Fed Watcher. He agrees that the Fed (and other central banks) have been asked to do too much in the absence of coordinated fiscal policy, but that buying up the last remaining high-quality assets may be part of the problem rather than the solution.
I personally don't understand how Japan buying REITs and ETFs while the US hoards its own Treasurys and the ECB starts buying investment grade corporate debt does anything for the economy. I know what it does for the asset markets – it makes people chase blue chip dividend-paying stocks (non-financials) up to absurd multiples. It also depresses (crushes) bank stocks. And nowhere is this phenomenon more on display than among the European bank stocks. They've been hammered as yields across the continent hurtle toward the zero-bound and below.
Here's a great representation of this via Credit Suisse's technical analysts David Sneddon, Chris Hine and James Lim: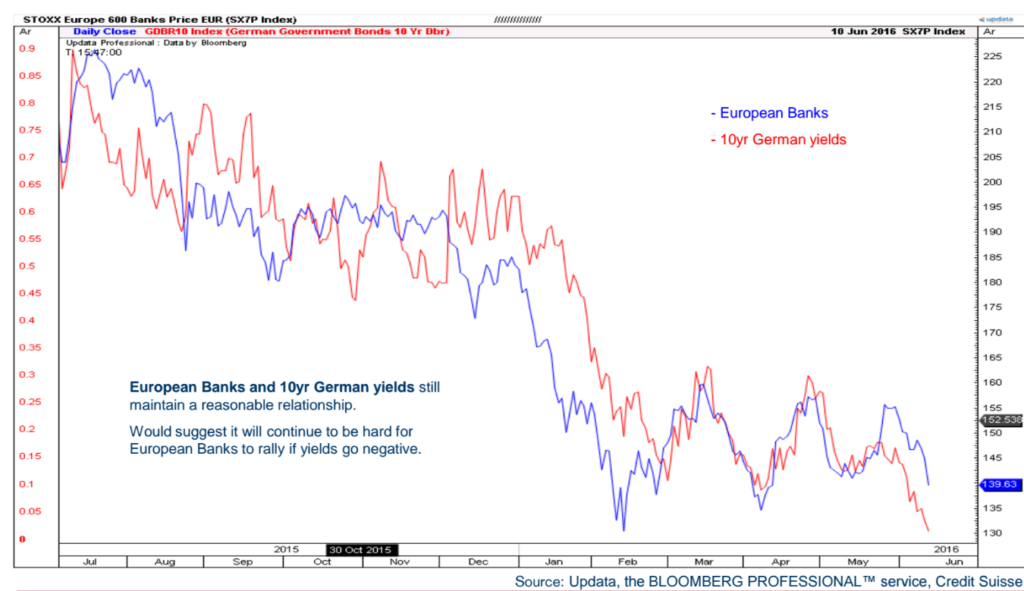 The bad news – CS's technicians see the German yield as heading toward negative territory. One wonders exactly what business these banks will be in at that point?
Source:
Under pressure – Key levels to watch 
Credit Suisse – June 13th 2016