John Mack is the Chairman Emeritus of Morgan Stanley, America's largest wealth management firm, with over 15,000 financial advisors.
John Mack is also an early backer of Lending Club (LC), whose stock price has just done this over 18 months since the IPO: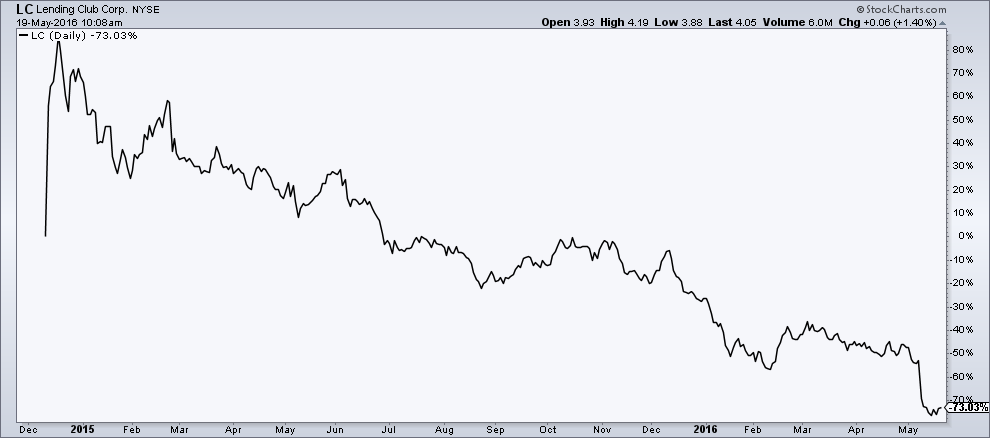 The conflict between an investment bank and its wealth management unit is on full display here…
Bloomberg:
For Morgan Stanley, this much is clear: It did well for itself on the way up, but some of its clients have lost on the way down. Long a top banker to the biggest names in technology, the firm collected millions of dollars in fees by extending loans to LendingClub and shepherding it onto the Big Board, company filings show. The newly public company's market value initially jumped, briefly surpassing $10 billion.

Over the past year, as the market's exuberance began to falter, Morgan Stanley and its money-management unit snapped up shares, amassing more than 34 million, mainly in mutual funds. Since mid-December, the bank's analysts issued no fewer than six bullish recommendations for the stock before they withdrew the rating last week, data compiled by Bloomberg show. Their view was shared by more than half their peers. The price tumbled 66 percent in that five-month period. Once worth $29.29 in December 2014, it closed at $3.99 on Wednesday, with a market value of $1.5 billion.
Publicly traded investment banks have a fiduciary duty. To their shareholders. 
I have nothing to add.
Source:
How Wall Street Led LendingClub Into Crisis (Bloomberg)