In David Kostin's Weekly Kickstart note for Goldman Sachs, the strategist talks about the six "known known" risks for US stocks this year. You know them by heart at this point: valuation, China, election, sentiment swings, rate hikes, buyback drought. One or two of these things will eventually matter and give us the next pullback.
I thought this chart of the forward PE multiple at the trough of each drawdown was interesting:
A drawdown during the next few months could find the S&P 500 index falling by 5%-10% to a level between 1850 and 1950. 16 drawdowns greater than 5% have occurred since 2009, including the 13% correction that lasted 3 months and ended in February (Exhibit 1). S&P 500 trades at 2047 and has a forward P/E of 16.7x based on bottom-up adjusted EPS of $123. A 5% pullback would lower the P/E to 15.8x, implying an index level of 1950. A 10% correction would reduce the P/E to 15.0x and the index level to 1850.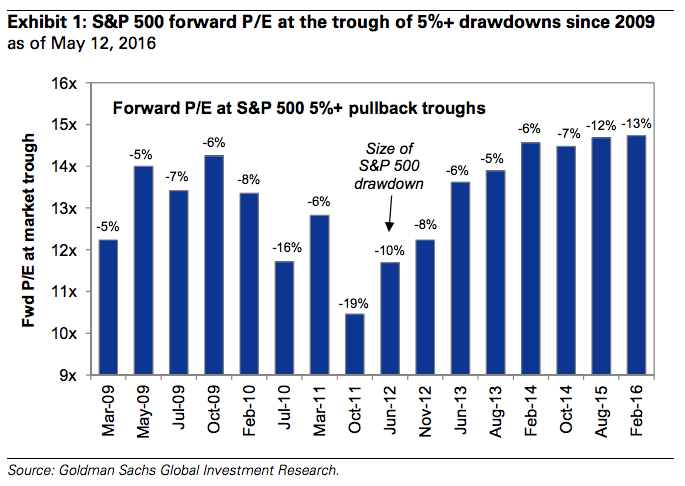 Source:
US Weekly Kickstart
Goldman Sachs – May 13th, 2016