The other day, we looked at the recent risk-on rally and tied it to a breakdown in the US dollar, via a chart from Jefferies and some data on earnings expectations improving.
Jon Krinsky (MKM Partners) says not so fast. It's important to understand that the dollar could pull back further and still remain in its longer-term uptrend. A resumption of strength in the dollar has the potential to erase a lot of the more positive sentiment about earnings / commodity prices that have buoyed the US stock market since February.
Here's my Chart o' the Day – Jon's look at the fact that speculators on the bullish side of the USD trade seem to have vanished. This negative positioning is supportive of a dollar bounce, says Jon, not a continuance of the downtrend, from a contrarian point of view.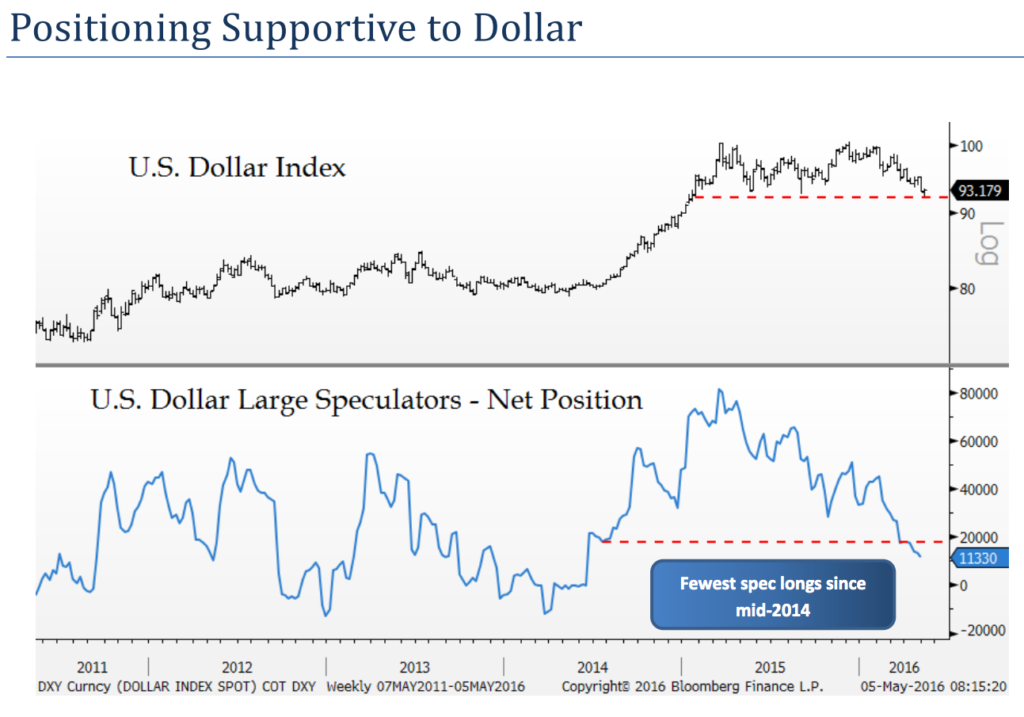 Josh here – you can see that, in recent history, when long specs abandoned the dollar en masse, it set the stage for a huge run circa mid-2014. A repeat of this sort of thing could serve to slam the brakes on the oil / metals rally and possibly put a lid above the SPX as well.
Source:
U.S. Dollar…The 800-Pound Gorilla
MKM Partners – May 5th 2016