Imagine you're short the lowest quality names in the S&P 500. You're betting against the names with the worst forward outlooks for earnings and sales growth, and many of them have the prospects of balance sheet deterioration to worry about as well.
And then, the S&P 500 inexplicably, and with no warning, snaps its downtrend and proceeds to rocket up for four straight weeks, with almost 11% returns for the index. And what's worse – everything goes up. The rally is led by the worst quality stocks with the highest short interest and the biggest declines during the previous 12 months.
It's not a great feeling to be a short-seller in this context. And this is exactly what's just happened.
In the chart below, I show you the percentage of S&P 500 stocks above their respective 50-day moving average. Normally you'll see this chart reversed, but I really want to bring out the swing in the internals over the last two years as the overall market has essentially bumped along the flatline.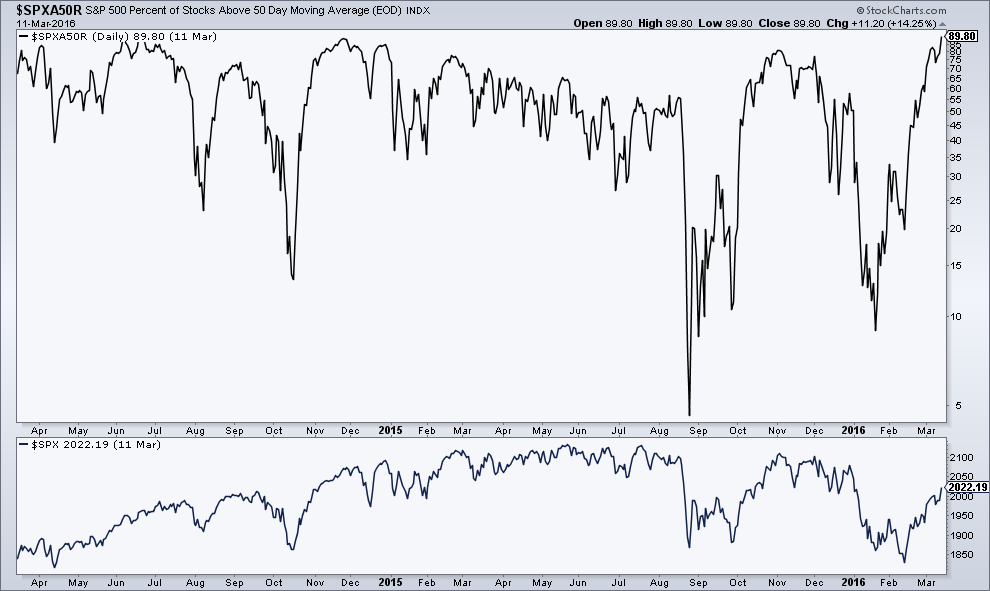 The percentage of stocks above their 50-day moving average is above 90%, which is an extreme reading to be sure. It's especially extreme in light of how quickly this percentage has shot up from the extreme low reading of early February.
This has got to be a short-seller's worst nightmare.