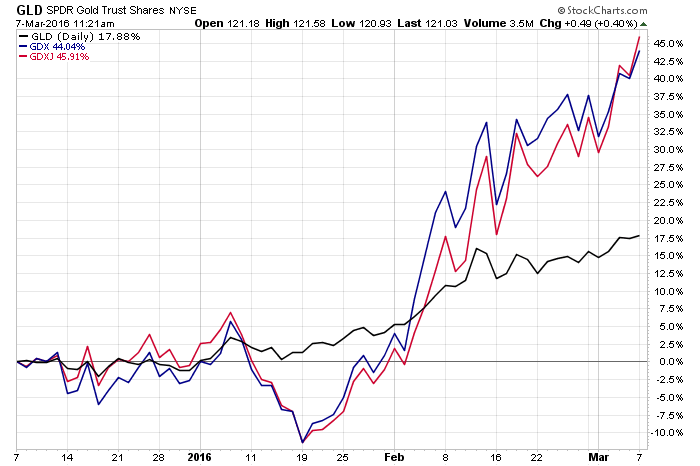 My colleague Michael Batnick did an excellent bit of research last week to determine whether or not there was a message for investors when gold speaks up. It turns out that gold is not predictive of inflation or deflation or the future prices for equities over one year time frames.
In short, gold could be telling us anything or nothing at any given time, looking back all the way to 1970. The upshot is to beware those attaching narratives to the random price fluctuations of a commodity – even a commodity as steeped in religious belief as gold is.
Read it here in case you missed it.
This morning's note from Nicholas Colas, Chief Strategist at Convergex, posits the idea that this year's gold rally is based more on greed than on fear. Some factoids for you:
The volatility in financial markets earlier this year boosted gold demand just as supply had come off line. The two largest gold ETFs – GLD and IAU – have seen $7.1 billion in net new demand so far this year. The latter actually had to cut off new "Creates" last week since it had not registered new shares to issue. Embarrassing, but understandable since redemptions out of GLD and IAU totaled over $25 billion in the last 3 years.

And then there is demand from gold bullion investors. This is harder to track in real-time, but it seems to be expanding.  A look at the APMEX precious metals dealer website shows that premiums for fractional gold coins like the old Swiss and French 20 Franc pieces (0.1867 troy ounces) have gone from $9.99 to $11.99 over spot in the last week. Premiums on U.S. 1 ounce Eagles now run $52 over spot, up from $30-$40 last year.

This increase in demand seems to be, thus far, notable but relatively modest.

Google searches in the U.S. for "Buy gold" were up 8% in January and 11% for February. At the same time, they are still off close to 50% from the peaks in August 2011.

The locations of these searches are concentrated in cities one associates with large retirement communities. Las Vegas tops the list, followed by Phoenix, Tampa, and Orlando.
Nick explains that the activity we're seeing thus far is more indicative of traders sniffing out a profitable opportunity as opposed to some sort of 2011-style panic mass panic attack.
Interesting stuff, thanks to Michael and Nick.
Sources:
What Is Gold Trying To Tell Us? (Irrelevant Investor)
Gold Screams, But What's It Saying?
Convergex Morning Briefing – March 6th 2016