I was a vocal member of the chorus of booing Knicks fans last June. We're usually a large constituency to be sure – and an outspoken one – but on NBA draft night 2015, we were a veritable cacophony.
Using their 4th overall pick in the draft, the New York Knicks organization selected a player that very few fans had ever heard of, a 7 foot 3 inch-tall Latvian kid named Kristaps Porzingis. To the Knicks faithful, this out of the blue decision had all the hallmarks of one of the worst moves the team had ever made in a draft some sixteen years earlier.
In 1999, the Knicks were coming off a season during which they had just barely made the playoffs. Having been a strong contender throughout the 1990's, that might have had a title shot if not for the domination of Michael Jordan's Chicago Bulls, the team's fans had grown accustomed to near-excellence. Plus, we're New Yorkers – we don't do rebuilding years. The '99 Knicks had enraged the base by trading two of the most beloved fan favorites in franchise history that year – dealing Charles "the Oak" Oakley for the brittle Marcus Camby, and stalwart hustler John Starks for the mercurial and quasi-committed Latrell Sprewell. Somehow the Knicks managed to make the finals that year, but, for long-time fans, the dark clouds on the horizon were too ominous for celebration.
In the draft that summer, the Knicks used their fortuitous 15th overall pick to select a French seven-footer by the name of Frédéric Weis, despite the fact that Queens native Ron Artest was still available. Weis claimed back injuries and never ended up signing with the team. Up until his official 2011 retirement from basketball, he had never played in a single NBA game. It was an unforgettable and unforgivable debacle.
The Weis signing was just one of several personnel blunders that led to the "Lost Decade and a Half" the Knicks have since endured – but it is, to this day, the most emblematic episode of the era. And so, when the Porzingis announcement was made, there was only one conceivable response one could expect from the fans – "ARE YOU F***ING KIDDING ME?"
The boos at the Barclays Center, in front of a mostly local audience, reverberated around the Tri-State area. It was the cover story on the tabloids the next morning. The shock, anger and disbelief became headline news. There was even a kid crying in the audience, on national TV, who became a mascot of sorts for all of Knicks Nation.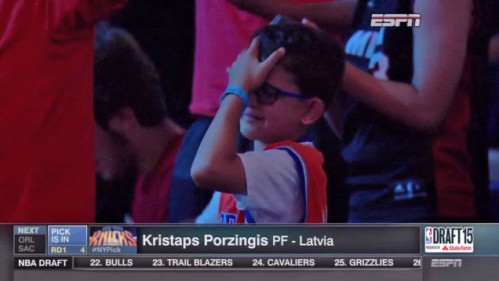 To the fans, it looked like 1999 and the Frédéric Weis selection all over again. And can you blame us? Another European. Another probably injury-prone seven-footer. Another goofy white guy. Has only played in Spain. Has not been coached on a US college team. Nobody knows who he is. And weren't there still players from Duke, Kansas, Kentucky and Maryland still available? And this is the pick? This kid?
We screamed and yelled and tweeted our heads off. I texted my dad "WTF????" and he texted back that he was officially done watching basketball (he says that every year, this year about the Giants too). There were a handful of sports columns that said the Knicks made a good pick, but even they mostly conceded that it could be years before Kristaps was ready to contribute and play major minutes.
The snap judgment was that the team's Dark Ages would be extended a few years and, based on our past experiences, this snap judgment was entirely logical.
Here's the problem: We were dead wrong.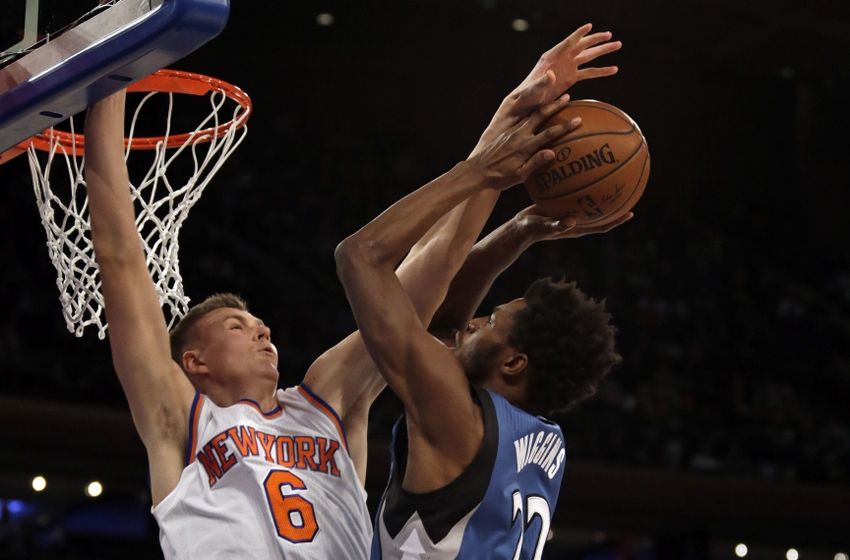 Kristaps Porzingis, halfway through the NBA season, has turned out to be a phenom. Not a Jeremy Lin-esque flash-in-the-pan phenom, but a legitimately solid player with every indication of both present and future dominance on the court.
He rebounds. He blocks shots. He makes assists. He can dribble. He hustles back and forth on offense and defense. He's tough. He posts up. He's automatic from the foul line. He hits the 3-pointer more often than any big man I can think of. And most of all – he can play with Carmelo Anthony. Scratch that – he idolizes Carmelo and has earned Carmelo's trust. This is no small thing. The only way a Carmelo-led team goes anywhere is if Carmelo can trust his teammates and becomes willing to feed them the ball. That's what's happening this year, for the first time John Starks and Mark Jackson led the offense.
The Knicks are the most exciting turnaround story in basketball this year and Porzingis is the reason why.
The center we've affectionately nicknamed Three 6 Latvia is averaging 13.9 points per game and 8 rebounds. He's averaging two blocks per game – leading all 17 rookies in the league – and plays the 3rd most minutes of the class. And all the while, he's a 20-year old kid, speaking English as a second language and enduring the unforgiving spotlight of the New York media. We don't know what happens from here, but so far, Porzingis has been nothing short of miraculous.
How is it that none of this seemed even remotely possible to Knicks fans just a few months ago? Are we so jaded by the organization's past blunders that personnel mishaps became an inevitability to us? Did the failure of the Weis draft permeate our mentality so deeply? Had we become so skeptical that the notion of a European player succeeding at the Garden became an utter impossibility?
Yes. And the important thing to keep in mind is that, as investors, we engage in this sort of thinking all the time. We form snap judgments of things at first glance that are colored by our previous experiences before thinking more critically about the issue at hand. A tech IPO jumps from 20 to 40 and our snap judgment is either "it's a bubble" or "it's the next Amazon," without stopping to consider that it is probably neither of these things. GM announces a major ignition problem, along with a raft of vehicle recalls, and we immediately debate whether it's BP's oil spill all over again.
We can't help it – this is the Availability Bias at work. Something we can easily recall gains an outsized amount of importance as we seek easy (lazy) comparisons in order to contextualize new events. Paradoxically, the more experience we have in the markets, the harder this sort of hurdle is to overcome. This is why traders who were around in the 1970's see inflation everywhere they look. It's why investors of my generation, whose formative experience was the dot com boom and bust, are so acutely aware of every potential bubble. We can be aware of this availability bias, we can even control it, but we can never completely eradicate the impulse.
Nobel Prize-winning behavioral psychologist Daniel Kahneman classifies this as "System 1 Thinking" in his groundbreaking 2012 book Thinking Fast and Slow. He explains the difference between the System 1 thinking that Knicks fans fell prey to versus the more useful System 2 thinking that requires more than a few seconds:
• System 1 operates automatically and quickly, with little or no effort and no sense of voluntary control.

• System 2 allocates attention to the effortful mental activities that demand it, including complex computations. The operations of System 2 are often associated with the subjective experience of agency, choice, and concentration.

When we think of ourselves, we identify with System 2, the conscious, reasoning self that has beliefs, makes choices, and decides what to think about and what to do. Although System 2 believes itself to be where the action is, the automatic System 1 is the hero of the book. I describe System 1 as effortlessly originating impressions and feelings that are the main sources of the explicit beliefs and deliberate choices of System 2. The automatic operations of System 1 generate surprisingly complex patterns of ideas, but only the slower System 2 can construct thoughts in an orderly series of steps.
Among the many conclusions Kahneman draws from his decades of research into the way think, one of them is that both System 1 and System 2 are entirely necessary for the human mind to operate in the world. From an evolutionary perspective, both had their uses. For example, you shouldn't require a System 2 thinking process to know that you should get out of the way when a charging mastodon is directly in front of you.
The trouble we get into is when we rely too much on System 1 and allow our snap judgments to become the only judgments we make on a given subject. In the world of money and markets, this laziness will eventually lead to financially destructive behavior.
Howard Marks, a brilliant investor with the mindset of a behavioral expert even if his formal training is in distressed debt, describes this conundrum as first level thinking versus second level thinking. As he explains in his masterpiece book, The Most Important Thing:
First level thinking says, "It's a good company; let's buy the stock."

Second level thinking says, "It's a good company, but everyone thinks it's a great company, and it's not. So the stock's overrated and overpriced; let's sell."
The implication here – a separation of what's obvious on the surface from what's less obvious (and as a result, possibly actionable) – forms the bedrock of any meaningful investing philosophy. And yet we repeatedly mistake good news for being good news and bad news for being bad. But the markets don't care about "good" or "bad", they care about better than expected or worse than expected. This is why a headline that would ordinarily be interpreted as "bad news" can spark a rally in a given investment, while conversely, it is said that markets top out to the sound of trumpets. Value investors and contrarian traders thrive on the misinterpretation of good and bad.
The markets are a discounting engine, processing news at all times as expectations are continually reset. Parsing this process, and making money from it, requires what Marks calls second level thinking, or what Kahneman terms System 2.
Back to the Garden. Porzingis said on draft night that he was not at all concerned about the booing and second-guessing of his new team's selection. He calmly and quietly said he would work hard at proving the detractors wrong. So far, this is exactly what has happened. The snap judgments we made as beleaguered fans of the team look stupider with every blocked shot, every defensive rebound, every hoisted 3 from downtown. It's a great reminder that our experience can work against us in our decision-making as often as it can be useful. It's a wake-up call that snap judgments lead to forceful reactions and overconfidence in the heat of the moment. This is counterproductive in the markets (and in basketball).
Even the crying kid from the draft has learned this lesson. Here he is with his new hero – there's hope for us after all: