Yes, we've left 2015 behind, but not necessarily its chief problem for stock bulls – a rally running on fumes.
Jon Krinsky's latest technical look at the market for MKM Partners focuses in on the breadth problem that seems to be heading toward extremes (emphasis his)…
For the S&P 500 Index (SPX – 2043.94), 2016 starts out almost exactly where 2015 started. As most market participants know, however, the true story of last year was that a very small number of stocks had a great year, while the majority had a very poor year. It was often referred to as the 'Stealth Bear Market'. Consider that the equal weight S&P 500 closed -4.11% vs. -0.73% for the cap-weighted version, the worst underperformance of that index since 2007. We can also look at the NYSE Composite, which has ~1,900 issues, closing -6.42%, or the 1,700 issue equally weighted Value Line Geometric Index, which lost -11.24%. Finally, the median stock in the Russell 3k, which comprises 98% of U.S. equities, is now down over 20% from its 52-week high. Our base case for 2016 is that the weakness seen at the stock level finally makes its way to the cap-weighted index level. This means an above average chance of a negative year for the S&P 500, and the possibility that the 'stealth bear market' we have been in for 6-9 months is revealed as a true bear market.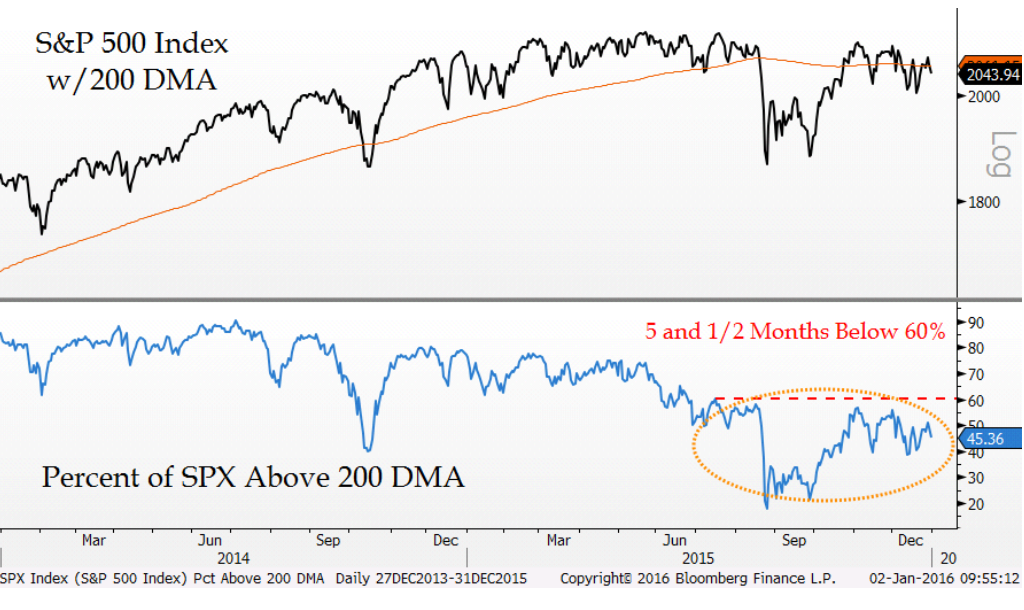 Josh here – history doesn't have a lot of great examples where a bull market narrows to just a small group of stocks and then everything else rebounds to catch up. Typically, it goes the other way – the last few remaining names in their own bull markets succumb to the broader trend.
It's not impossible for the 60% or so of the market that's currently correcting to stage a 180. Perhaps stabilization of oil prices and the related bounce-back in earnings estimates could serve as the catalyst for something like this.
Or the FANGs come back to earth and the same downtrend affecting the equal-weight market finally hits the cap-weighted averages.
Source:
2016 Outlook – The Stealth Bear Is Revealed
MKM Partners – January 3rd 2016