The equity and quant strategy team at BAML is out with their relative valuation cheat sheet looking at where the market's correction has generated the biggest buying opportunities.
Savita Subramanian and Co. note that multiple compression has knocked the S&P 500's forward PE ratio to a premium of just 4% above the long-term historical average, versus the 10% premium it had been trading at earlier in the summer.
But not every drop in valuation is worth getting excited about…
At the sector level, Health Care valuations collapsed the most last month as investors rotated out of crowded stocks—the sector's relative forward P/E is now more than 10% below history after trading close to average earlier this year. Tech valuations also fell substantially; these two sectors remain the cheapest vs. history on relative forward P/E. Growth-oriented stocks overall were among the worst performers in August. Industries which saw their P/E ratios compress the most were Biotech, Health Care Technology, Life Sciences, Media, and Communications Equipment. We caution, however, that while the sell-off provides an attractive opportunity to buy some industries, others may be cheap for the wrong reasons, as prices may be falling faster that estimates are being revised down. Here our tactical industry model—which we now regularly include in this report on page 13—guards against short-term value traps.
Here's that graphic, separating the opportunities from the traps: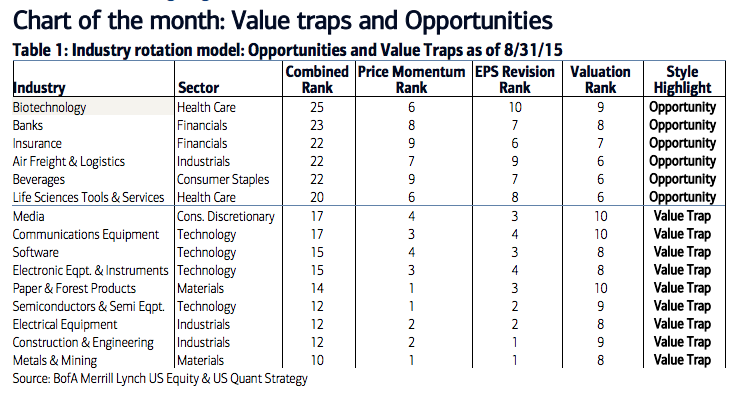 Josh here – there seem to be a lot of key sectors with fundamental outlooks falling faster than their multiples. Are banks and biotechs enough to carry the market to another year of positive returns?
Source:
S&P 500 Relative Value Cheat Sheet
Bank of America Merrill Lynch – September 16th 2015