Bouts of volatility tend to be favorable for active stock-picking funds, as it is usually the lowest quality stocks that get smashed open like a row of decorative gourds on Halloween night. Professional managers tend to have less exposure to junky stocks because they've all gone to the same business schools and have been educated with the same text books. And none of them have been taught to load up on low-quality companies, for obvious reasons.
And so, in a correction, it is not unusual to see the active funds pick up a few points vs the indices they track. But it's a Pyrrhic victory because they still lose money. They just lose a bit less.
Here's what August looked like for small cap fund managers, for example (via Bank of America Merrill Lynch):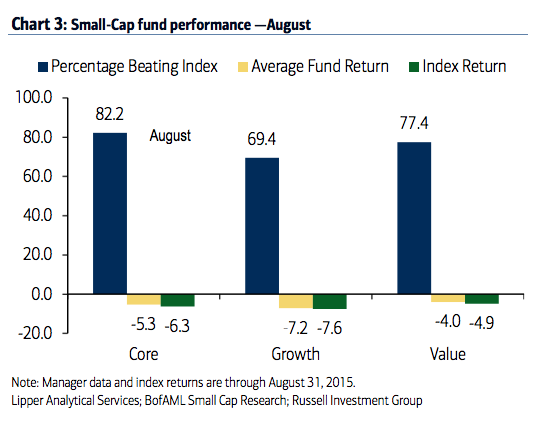 As discussed in our small-cap performance monitor, when volatility rises lower quality lags behind and that is exactly what happened in August. The nonearners fell 9.2% and the lowest ROE stocks tumbled nearly 10%. Fund managers typically invest in higher quality stocks with earnings so this environment was ripe for active management as demonstrated in Chart 3. More than 69% of small-cap funds were able to beat their benchmark in August. Core and value funds added the most alpha at close to 90 bps as 82% and 77% of funds outperformed, respectively.
Josh here – now of course the real rock star active funds in a correction are the ones that don't hug the benchmarks at all and tend to do their own thing. Take First Eagle Global, as an example, which allows its cash position to build when the market doesn't present it with enough value opportunities to be fully invested. In the month of August, First Eagle Global's flagship (SGIIX) only posted a decline of 3% vs the 6% drop on the S&P 500.
Again, a victory, but a Pyrrhic one at best.
Source:
The Mutual Fund Recap
Bank of America Merrill Lynch – September 1st 2015