Peter Brandt does a fantastic trading newsletter and it's been a pleasure to read his insights all year. His latest note updates subscribers on the S&P 500 now that a fairly obvious pattern has reached completion: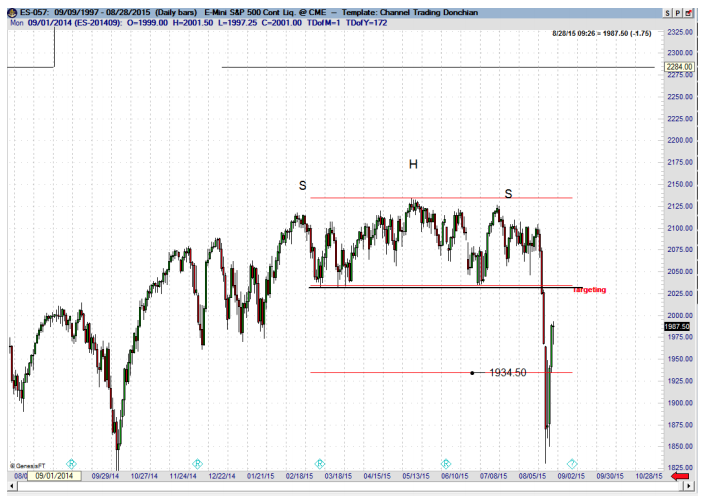 The S&Ps offer three good lessons that should not be missed. First, the H&S pattern has met its target. This market does not owe the bears anything more than what it has already delivered. A trader is his or her worst enemy – I know I am my own worst enemy if I let my emotions dictate my actions. Traders should not trust heightened emotions during periods of volatility. The time to have gotten short was during the development or completion of the right shoulder, not on Aug 24. Second, throughout 2015 I have pointed out that the S&Ps chart was morphing – and that selling weakness and buying strength within a trading range is a quick way to chop up a trading account. It pays to wait for a market to "ring a bell," which the S&Ps did on Aug 20. Third, my "lesser self" after capturing a decline such as occurred Aug 20-24 is to become obsessed with not missing the next move. The fear of missing a move is the WRONG reason to make a trade.
Brandt is not necessarily bullish going forward. H&S tops can often be seen as precursors to a change in a market's dominant trend.
If you're interested in more of Peter's commentary, don't be shy. His blog at the link below: