The jury is still out on this question, even though we've been debating it since the oil swoon began in the second half of 2014.
But if we don't know whether or not consumers benefit, we know for sure that consumer stocks do. The market has decided that lower gas prices are good for consumers' discretionary spending. Here's a chart from LPL Research on the inverse correlation between the S&P 500's Consumer Discretionary sector vs the price of a barrel of oil:
Lower oil prices. Relative performance of consumer discretionary has shown inverse correlation to oil prices [Figure 2]. This factor, which certainly contributed to the sector's strong performance in 2015, is gaining intensity as oil prices retest lows from earlier this year. Lower prices at the pump should continue to provide support for consumer discretionary spending during the ongoing summer driving season. Although a big oil price bounce that could cause sector performance to reverse is possible, we believe it will take a while for oil prices to break out of the current range and return to the $60s. See our Weekly Market Commentary, "The Bright Side of Cheap Oil," January 12, 2015, for more on this relationship.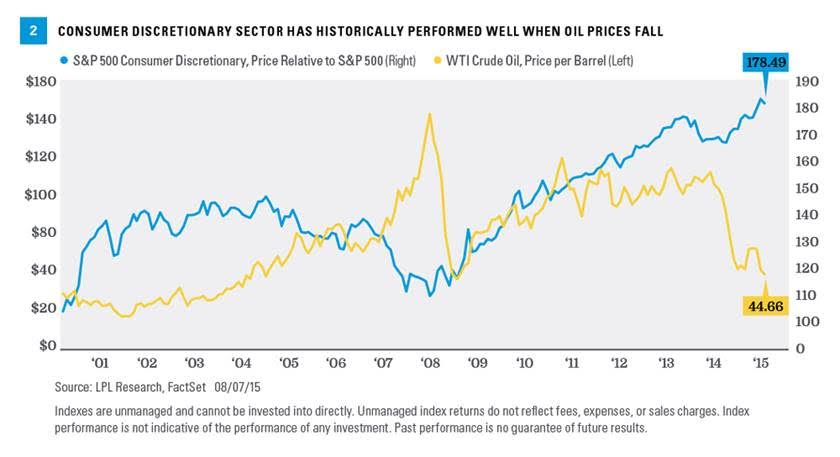 Source:
What we can learn by going back to school
LPL Research – August 11th, 2015