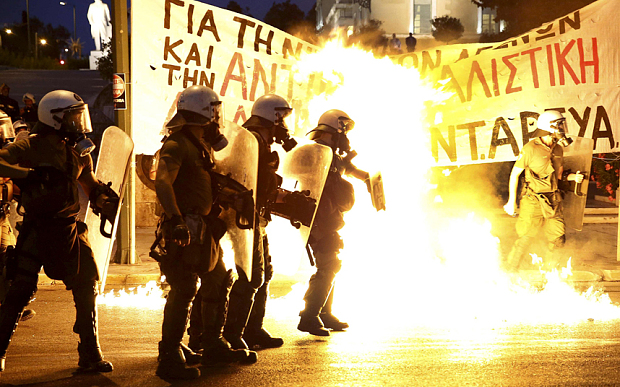 Athens exploded into violent protest late in the day after the Greek parliament passed the new austerity measures required by the country's creditors. You didn't think the reaction to Tsipras's failed gambit and subsequent capitulation would be a good one, did you?
There are pictures and videos all over the web of the riots. The onset of violence in the square outside parliament took a chunk out of US stocks into the closing bell today as investors didn't like the response they were seeing to this bailout, the third but probably not final version.
A draconian austerity bill designed to pave the way for a new bailout of Greece has been passed in the Athens parliament against the backdrop of deep splits in the ruling Syriza party and the most serious violence on the city's streets for months.

Teargas filled the air outside the parliament as the debate took place with riot police clashing with anarchists and demonstrations against the bailout deal were joined by members of Syriza's own base.
Groups of youths among the more than 12,000 demonstrators smashed storefronts and set at least one vehicle alight during the hour-long clashes. Police said at least 50 people were detained.

Civil servants protested with a 24-hour strike that disrupted public transport and shut down state-run services across the country.
Outside the parliament, troubled flared briefly as groups of anarchists who were part of an anti-austerity protest threw petrol bombs at police, who barricaded the street leading to the entrance to parliament with several riot vans…A masked protester who gave his name only as "Georgios" told The Telegraph: "We threw some water bombs at the police just to liven things up a bit, then they started trying to destroy us so we threw some petrol bombs in self-defence.
Greece is never settled. Political agreements and renewed legislation merely buy us a break in the action, as conditions get worse and worse and new deadlines loom. The same medicine that's made the patient worse and worse continues to be prescribed. Not sure why anyone's expecting a different outcome with the same inputs each time.
(image via Telegraph)