The monthly employment report stats may be understating the true pace of wage growth this year. Here's Guggenheim Investments' strategist Scott Minerd:
Thawing Economy Should Support Wage Growth
With the U.S. economy picking up momentum, employment and wage growth should continue to accelerate in the months ahead, providing a boost to consumer spending. While the average hourly earnings series, released with the payrolls report every month, has shown only a slight acceleration in wage growth, other measures are pointing to a faster pickup. The Employment Cost Index (ECI) showed wages and salaries growing at the best pace since 2008 in the first quarter of 2015, while the more volatile Employer Costs for Employee Compensation (ECEC), released this week, has surged over the past year to a growth rate of more than 4 percent.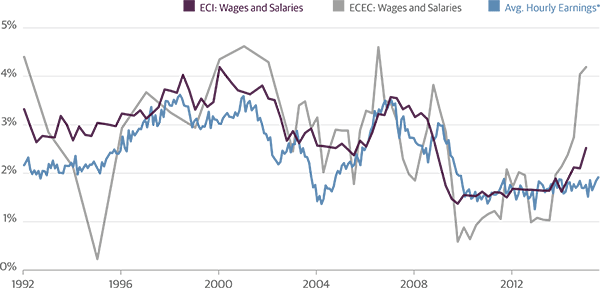 Source: