How much time do we left in this here bull market?
MKM Partners' Chief Economist and Market Strategist Michael Darda points out that it is not rate hikes that cause bear markets, it is recessions. A normal rate hike cycle does not, in fact, lead to lower multiples for equities. Rather it is when the Fed goes too far that a recession comes on, which then sets the stage for a stock market plunge. 1937-1938 being the infamous example – when FDR's money guys convinced him to tighten up policy before the economy had truly gotten back on sound footing. A 50% market crash was the end result.
Darda points out the business cycle will be the tell and so far the Fed has done nothing to derail it. That's the good news. The bad news is that Q4 2014 may in fact have been the cycle peak for corporate profits. If this is the case, then historically we have something like two more years before the next recession and concomitant bear market…
How much longer will the bull market last? Probably about as long as the business cycle does. Domestic non-financial profits divided (capitalized) by the Moody's Baa bond yield tend to peak about nine quarters before a cycle peak (i.e., well before S&P operating earnings tend to peak). This series seems to have peaked in Q4 of 2014, which, all things equal (they may not be) would be consistent with the business cycle extending into 2017. Of course, this series may go on to make new highs. However, we have record high profit margins against the backdrop of 1) weak productivity growth rates; 2) tightening labor markets; and 3) a prospective Fed tightening cycle. Thus, it may be safe to assume this indicator has peaked for the cycle.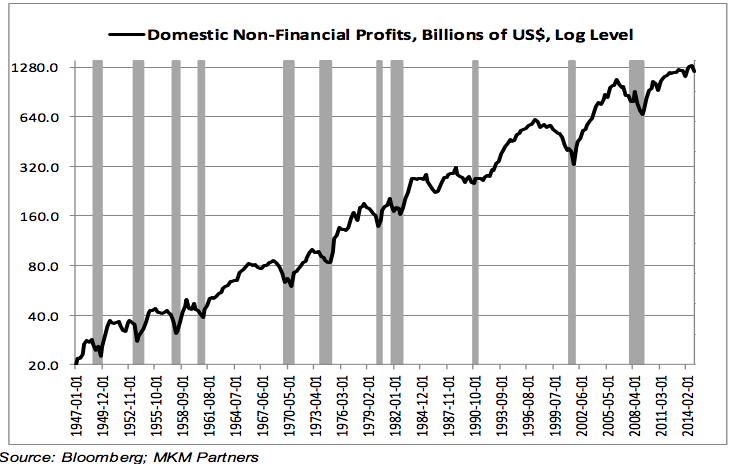 Josh here – the one variable that MKM has not considered is that Reese Witherspoon is now developing a new film, Opening Belle, based on a novel set on Wall Street:
The novel, due to be published by Simon and Schuster later this year, is a comedic version of a woman juggling motherhood with a career on Wall Street in 2007, when she must deal with the impending financial crisis while raising three children. The novel is loosely based on Klinsky's real-life experience working as a managing director at Bear Stearns.

Witherspoon and Papandrea will produce. Jeanne Snow will oversee for Pacific Standard. Julia Spiro and Chantal Nong will oversee for Warner Bros.
When Hollywood falls back in love with Wall Street stories, it's usually prudent to sell all of your financial assets and hide in a cave for awhile. JK. Or am I?