The economic data continues to improve after a rough 1st quarter – jobless claims, construction, new home starts, existing and pending home sales, etc keep coming in better than expected. We could be firmly in the "expansion stage" of the economic cycle should current trends persist, having left the recovery stage behind. Morgan Stanley's latest Cross-Asset Strategy note makes this case.
Below, a look at 3-month returns of various asset classes during expansion stages of the past:
In the 'Expansion' stage, which is where our US cycle indicator suggests we are, stocks perform best, with credit and rates trailing. We also note that US large-cap equities have tended to outperform mid/small-caps during this stage, and somewhat counterintuitively, volatility has generally been the lowest.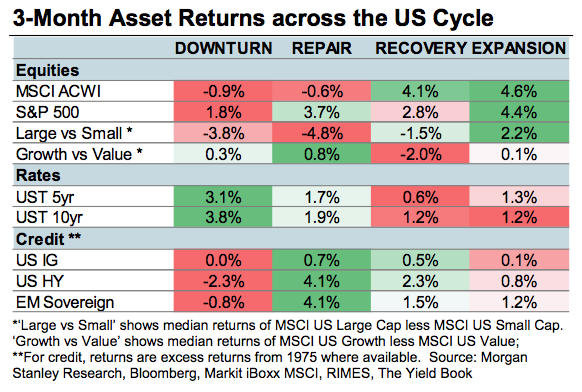 Source:
Cross-Asset Strategy: Bonding with Stocks
Morgan Stanley – June 1st 2015