This morning's Thundering Word note at Merrill Lynch contains an interesting passage about the litany of "pain trades" that have blown up as the end of the "max liquidity" regime has wreaked havoc in some of the most crowded areas of the market…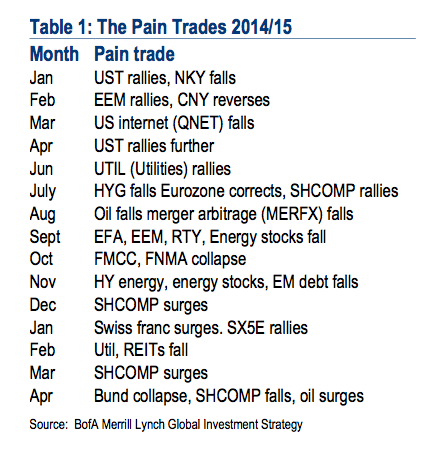 A "Cesspool of Rotation"
2015 asset returns have been none too shabby: stocks 7%, commodities 6%, bonds -1%, dollar 4%. But this should not be mistaken for Wall Street terra firma. Since Fed tapering was announced (Feb'14) investors have been scarred by a series of vicious "pain trades" (Table 1), crowded trades suffering harmful reversals.

For example, many were positioned this Jan for US macro liftoff. Once weaker- than-expected Q1 data caused the Fed to "blink" in March, an immediate painful US$ peak, biotech selloff and trough in oil prices ensued. In the same vein, bond investors were "all-in" on ECB QE at the end of Q1. German bunds and other European bond markets were priced-to-perfection. Few acknowledged the surprise turn higher in EU inflation expectations as even Spain outperformed US growth in Q1. A sudden "buyers strike" for $6tn of negatively-yielding global government bonds (it's now $4.5tn) caused a 16% crash in German bund futures in 13 trading days.
Josh here – this cuts to the heart of the idea that nobody knows nothin' and that the blowup will always occur just when enough people have caught on to a theme and there's no one left on the other side of the seesaw.
Jeff Gundlach likes to say "When you hear people in the investment business say the word 'Never', that's when it's about to happen." In the case of many of these pain trades, the term "never" was often assigned to the other side of them – ie: Utilities will never outperform in an improving economy. Oh well.
Source:
The Twilight Zone
Bank of America Merrill Lynch – May 17th 2015