Hint: It rhymes with Pan Tanbrisco.
Using their own internal credit and debit card transactions data, Bank of America Merrill Lynch's economists look at the retail sales growth this year, broken down by city: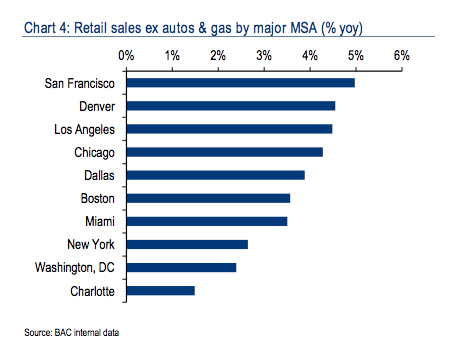 There is divergence by coasts, with the strongest activity in the West. The fastest growth in retail sales ex-autos and gasoline was in San Francisco where there was a 5.0% increase on the year.

The weakest was in Charlotte; Washington DC and New York followed behind. This could partly reflect the particularly poor weather conditions in the East Coast this winter.

Dallas was in the middle, seeing some slowdown in spending with the plunge in energy sector investment, but not a collapse in activity.
Josh here – the screeching hot growth in San Fran fits perfectly with the relatively data-free observations I made over the weekend after a few days in the city – see: Observations from the Mission.
Overall, BofA sees a perplexingly lackluster April for retail sales based on their own metrics and is unsure why this should be the case. The stop-n-start nature of the recovery continues to play havoc with monthly data.
Virtually every economic report is a non sequitur in relation to its predecessor in the series. Have you gotten used to this yet? May as well.
Source:
April Fools
Bank of America Merrill Lynch – May 12th 2015