This is one of the craziest PR pitches I've ever seen. I'm just publishing the entire email below, with the sender's consent. After Hours Capital wants publicity and they want it now, at any cost. Feel free to sound off on this on Twitter. To be clear, I do not know anything about this service other than it sounds insane and I don't even know where to begin in terms of the inherent risks of something like this. 
***
Mr Brown,
A FT writer tweeted about us on Thursday, which sparked conversation and routed hundreds of people to our website. I was surprised because we only launched it on March 3rd. Here's the tweet:
https://mobile.twitter.com/FD/status/581055421449945088
Good or bad, we'd appreciate your thoughts. I'd be interested to see what kind of traffic a blog like TRB would receive from a discussion of the same. Again, we expect a fair amount of negative press so I won't be upset if you slam us.
All the best,
After Hours Capital, LLC
www.afterhourscapital.com
info@afterhourscapital.com
***
Joshua Brown <thereformedbroker@********>
3:57 PM (27 minutes ago)
to james
I could just publish the content of your email minus your personal contact info if you'd like. I'm certain the crowd would chime in.
Let me know.
Josh
***
james@********* 
4:01 PM (24 minutes ago)to Joshua
Go for it.
***
From the After Hours Capital site: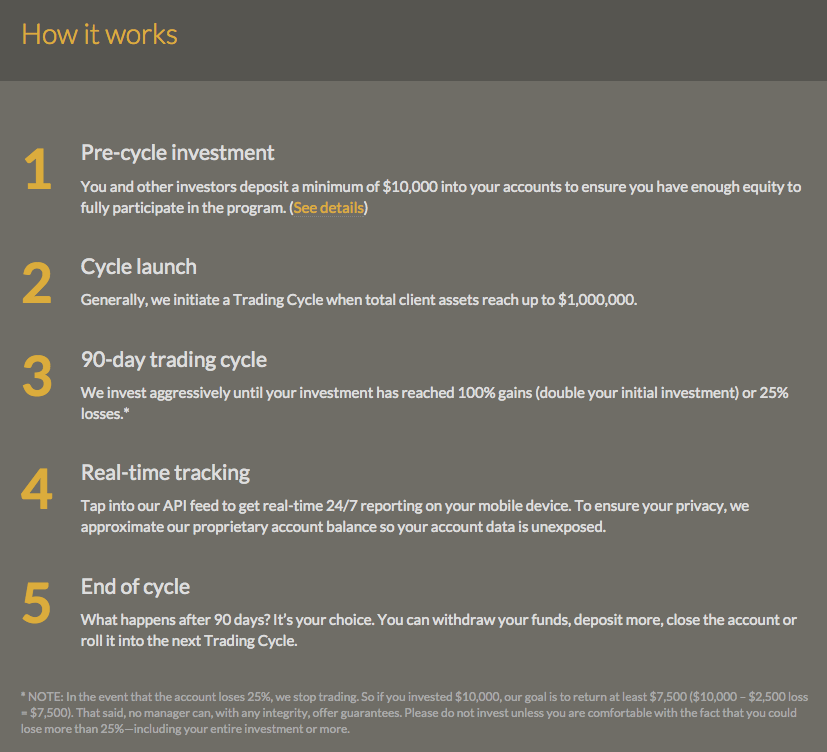 Good luck with that.