The story of last year was one of deep divergences between large caps and small caps. The small cap premium was actually a negative number in 2014 as the biggest of big stocks, led by Apple, were the belles of the ball. The S&P 500 had a total return close to 14% while the Russell mostly marked time and barely closed higher.
This year, that pattern seems to have reversed itself. The S&P has been left in the dust by the Russell 2000 small caps, particularly small cap growth stocks. I pointed to the nascent breakout in early December as the Russell was taking out the key 1200 resistance level.
Market commentators have theorized that this is happening because a) the US economy is better than the global economy, disproportionately benefiting the earnings growth outlook for domestic-focused companies and b) smaller companies also have less exposure to foreign currencies, which have weakened substantially versus the dollar. A third argument revolves around the cost savings and local consumer buoyancy emanating from the halving of energy costs.
All of these are reasonable, ex-post rationales for the action you're seeing on your screen. As usual, price leads opinion. Or, should we say, price creates opinion.
Here's Tom Bowley of the Chart Watchers blog:
Both the Russell 2000 Index ($RUT) and S&P 600 Small Cap Index (SML) broke out to all-time highs last week as money continued to rotate towards aggressive small cap stocks and that should be seen as a bullish sign for equities.  In the case of the $RUT, a year long bullish continuation pattern – an inverse head & shoulders – finally resolved to the upside with a fresh target price of 1400 based on its measurement.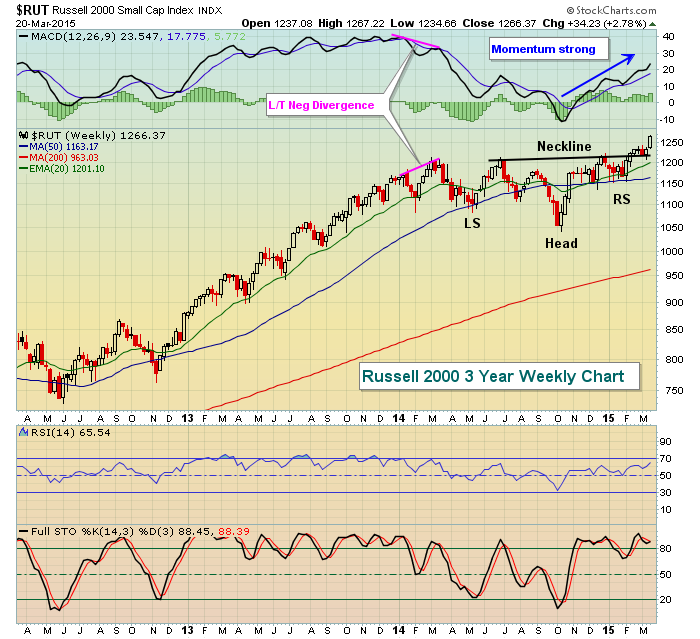 Josh here – having spent all of last year digesting the huge gains of 2013 and going nowhere, the US small cap outperformance trend could just be getting started once again.
Source:
Aggressive Small Cap Indices Break Out Again (stockcharts.com)