Bank of America Merrill Lynch economist Michelle Meyer notes that "The homeownership rate has plunged, reaching 63.9% at the end of last year, and the lowest since the mid-1990s." In the below charts, her team takes a look at homeownership rates by age – in percentage terms among each group as well as percentage of total homes owned.
First, we look at how the homeownership rates have changed over the past 20 years (Table 1). The biggest decline in the past ten years has been among the 30-34 year olds, followed closely by the 35- 44 year old cohort. This more than reversed the gain over the prior ten years. There was a similar story for the 25-29 year olds, but not quite as extreme. In contrast, the homeownership rate for 65+ has been little changed. As we show in Table 2, the population has aged with an increasing share of households above 55 years of age (baby boomers), a notable decline of the middle-aged cohort and a slight drop in the under 35 year old group.
Amazingly, it turns out that there are more homeowners over the age of 75 than there are among people in their 20's and 30's combined.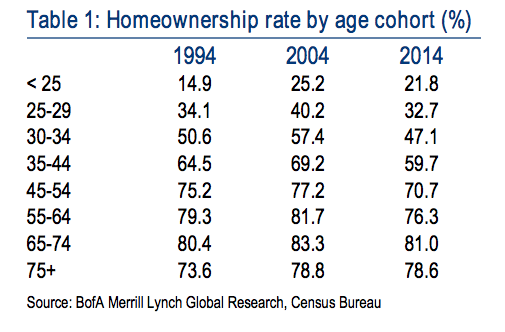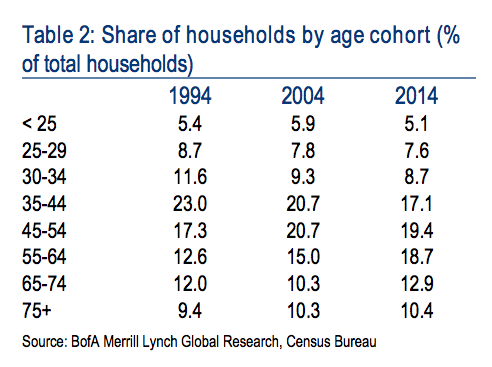 Meyer believes there is risk to the downside for homeownership rates owing to demographics but cites a Harvard professor who believes formation among younger families is getting underway.
Which is it? Are the age-related headwinds too much for the confidence of an improving economy to overcome?
Source:
Decomposing the homeownership rate
Bank of America Merrill Lynch – March 6th 2015