Savita Subramanian notes that, overall, Q4 2014 earnings reports are tracking better than average, despite the massive headwinds of FX volatility and energy-related investment stalling.
With the conclusion of Week 3—the biggest week of 4Q earnings season—226 companies representing 63% of S&P 500 earnings have reported. Bottom-up EPS jumped $0.51 to $30.06, now tracking above our forecast of $29.75 and representing a 1.5% beat vs. analysts' expectations.

Overall, 55% of companies have beaten on EPS, 54% have beaten on sales and 37% have beaten on both. This was an improvement vs. the prior week, and is now tracking slightly above the long-term average of 35% for EPS and sales beats.
As she predicted, Health Care has been the belle of the ball this season, with the highest percentage of beats on both top and bottom line along with the most positive revisions. The Equity and Quant Strategy group also notes that Apple's huge upside report is contributing almost half of the S&P 500's total 4.2% year-over-year earnings growth rate. That's a pretty astounding contribution from one company, n'est-ce pas?
Here's the sector breakdown coming out of the massive third week that represents the season's peak: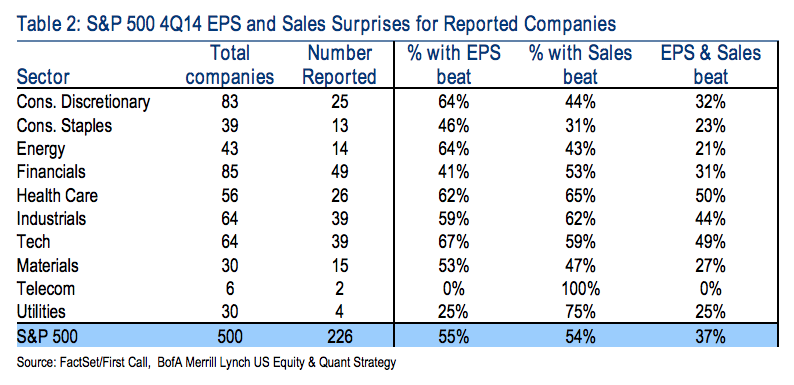 Source:
Q4 EPS now exceeding expectations
Bank of America Merrill Lynch – February 2nd 2015