On December 17th, when President Obama and Raoul Castro made their historic announcement about "normalizing relations" between Cuba and the US, I published a post about the most popular vehicle to play the event, a closed-end fund with the ticker symbol CUBA.
The Herzfeld Caribbean Basin closed end fund, ticker symbol CUBA, was designed decades ago in order to take advantage of this very announcement, if and when it ever came. It has come this morning, and CUBA is now up somewhere between 30 and 40 percent on the day. Congratulations to longs who were already positioned. I would be a seller.
The general idea of my post was to warn investors against chasing a hot thematic investment just because it was in the headlines for a week. I don't know anything about Cuba, but I understand enough about investor psychology to know that hot money moves quickly and gets bored easily.
In the two weeks since, here is what's happened to Cuba: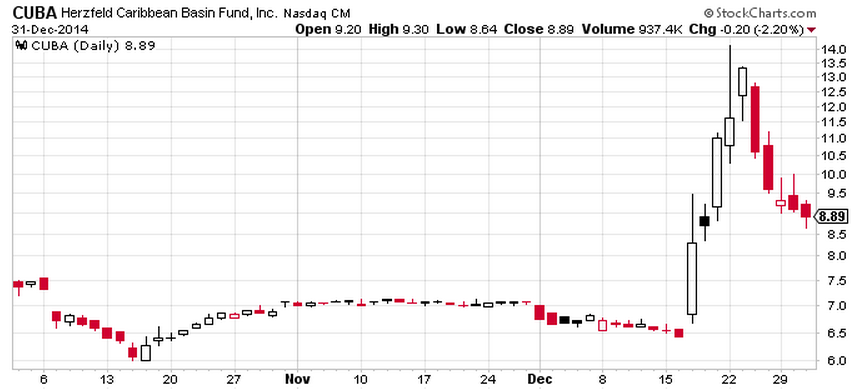 The closed-end fund is down 35% over the last week and has given back most of the gains from the announcement. I've seen this kind of thing play out approximately one million times. I'd been on the wrong side of these plenty of times in the early part of my brokerage career as the sexiest stories in the market were always the easiest to sell to investors. Unfortunately, they're often the stories that are the least likely to have staying power once the hype dies down.
Did you get caught holding the bag on Cuba? Consider hiring a professional to manage your money or lessening the amount of event-driven trades you take each year.
Read Also: