Welcome to week 3 of my new recurring feature, The Riskalyze Report.
My friends at Riskalyze have offered me the opportunity to see which stocks and funds advisors all over the country are adding to their clients' accounts and which ones they've been selling. Each week I'll present you with the top three buys and sells and we'll track how this progresses while trying to figure out what it says about the professional mindset.
This data has been aggregated from across the client accounts of the thousands of advisors who use the software. Most of it comes directly through the third-party custodians where advisors' assets are held. Thanks to Aaron Klein and Mike McDaniel for granting me this access. I hope we can uncover interesting trends for you each week…

Week of October 13th – October 17th 2014:
Winners = top investments purchased by advisors for client portfolios that week
Losers = investments that advisors sold out of in client portfolios that week
Winners (advisor flows TO these investments increased substantially):  
Pimco Income Fund (PONPX, PONDX, PONAX, PIMIX)
First Eagle Global (SGENX)
Cash/money market
Losers (advisor flows FROM these investments increased substantially):
Small Caps (VB)
Real Estate (DFREX, IYR, VNQ)
Walmart (WMT)
Josh here – It looks like the shift by financial advisors into Pimco's Income Fund, run by the firm's newly-crowned CIO Daniel Ivascyn, is a carry-over winner from last week.
In addition, we see that cash and money market funds were the third biggest purchase by advisors – not surprising given the astounding sell-off across global and US equities last week. Tactical accounts or shaky money managers raced for the exits, whether because they themselves felt compelled to or their clients demanded it (hopefully not the latter – what the hell do we get paid for if not discipline in scary environments?).
This flight to the mattress actually squares nicely with the latest dat from the National Association of Active Investment Managers (NAAIM) Exposure Index – which indicated complete and utter panic. As you can see in the below chart, via See It Market, asset managers raced out of stocks at the fastest rate since September 2011: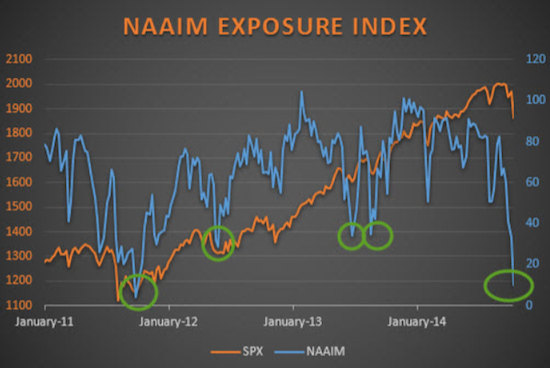 What's been happening since? Stocks have been recovering. It will be interesting to see if cash remains on the financial advisor buy list when we see the current week's data. I doubt it will.
***
A word about Riskalyze:
In my practice, we use Riskalyze software tools to help assess clients' true risk tolerance and to test portfolio configurations that match up accordingly. It's changed our practice for the better, as I explain here.