The Single Most Important Thing To Know About Stocks This Year: Investors are only tentatively staying with the bull market – and they're moving up the cap chain to perceived safety, a trend that's been in force since January.
Jon Krinsky, CMT, technical analyst at MKM Partners (emphasis mine):
We continue to harp on the market cap issue because we feel it is extremely important at the current juncture. The fact is, there is a direct correlation this year between market cap and performance. Micro-caps (IWC) are -8% YTD, followed by small-caps (IWM) at -5.75%, followed by the mid-caps (MDY) at +1.3%.  The large-cap SPY is +6.3%, and finally the mega-cap (OEF) is holding up best at +6.7%. There are many different ways to express this issue, but perhaps one that doesn't get enough attention is a simple ratio of the S&P 500 Equal Weight Index (SPW) vs. the regular market cap weighted SPX. This is the exact same index of course, just weighted differently.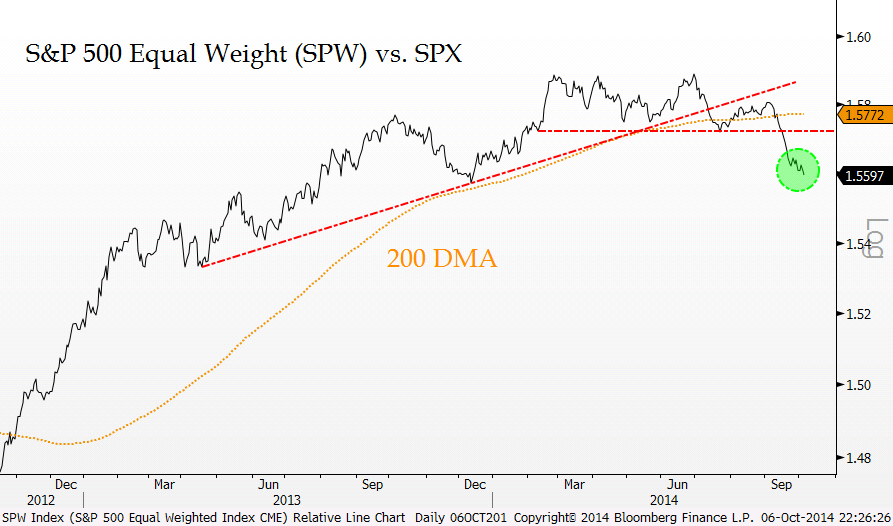 Josh here – Jon notes that the breakdown of this ratio – where in investors seeking safety by adandoning all but the largest stocks, was a concurrent indicator of the carnage in the summer of 2011 but a leading indicator of what was to come in 2007. Even geographically speaking, US mega-caps stand alone. The MSCI EAFE index of international stocks just printed a 52-week low this week. IN a globalized world, it's hard to imagine the world's largest stock market continuing to make new highs by itself as the second, third, fourth and fifth largest stock markets plumb the depths. It can happen for a while, but not forever.
Milton Friedman was fond of saying "What is unsustainable will not be sustained." I think this is an apt statement at the current juncture. Either small- and mid-cap stocks get their act together for the final push into year-end or the rally's on hold (or worse).
Just my opinion, of course, but I've seen this movie before.
Read Also: