Here's a really key insight from my friend Ari Wald, technical analyst at Oppenheimer Asset Management…
You're hearing a lot about divergences right now because the internals on the S&P 500, here at all-time highs again, are blatantly bad. The same is going on market-wide. Only 65 percent of the S&P 1500's stocks are above their 200-day moving averages (or, in strong uptrends) vs the 80 percent reading we saw during the July high.
Two caveats:
1. We've seen this divergence before this year, it's resolved itself to the upside each time as the "market of stocks" eventually caught up with the stock market in the end. Guys fading the market's price this year because of its internal signals have been repeatedly burned. In some cases, a plunge in stocks above their 200-day moving averages has even been a buy signal, rather than a sign of imminent breakdown!
2. Upon closer inspection, it's really two sectors driving the weakness – as Ari reveals, oil stocks and commodity names are the reason why there are significantly less stocks currently in an uptrend. He looks at the S&P 1500 below to capture the mid/small markets as well here, but the same applies for the big caps.
Here's what's really going on:
We use the % of stocks above their 200-day m.a. as a proxy for the % of stocks in an uptrend,
and unconfirmed readings are a concern. For instance, the S&P 500 is out to a new all-time
high, but the % of stocks in an uptrend (S&P 1500) has dropped to 65% vs. 80% in July.
On closer inspection, Energy (32% fewer stocks in an uptrend since July) and Materials (22%
fewer stocks) have been chief sources for this decline in participation as a strong US dollar has
weighed on these commodity-related sectors.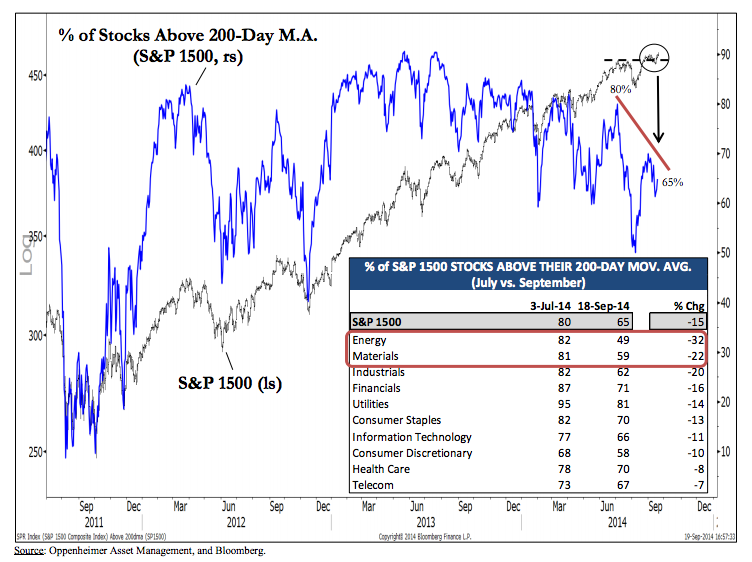 Josh here – as you can see, the 15 percent drop-off in uptrending stocks is being skewed much higher by a handful of sectors. These sectors are being largely impacted by the strong dollar trend. I'd throw in the industrials into this as well – they have to sell their products / services overseas and a stronger dollar makes them slightly less competitive.
The big story of the late summer, early fall so far is the rally in the buck. This just gives you one more reason to follow it.
Source:
Technical Analysis: Inflection Points
Oppenheimer Asset Management – September 22nd 2014