How big is the market for financial planning advice in the United States?
Gallup is out with survey data which indicates that, overall, 63 percent of Americans have sought financial advice. Of that group, 74 percent – three quarters of the total – have sought out the advice of a professional.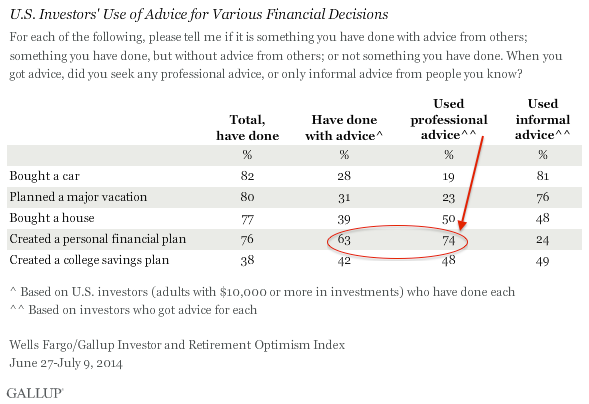 These findings are based on the Wells Fargo/Gallup Investor and Retirement Optimism Index survey conducted June 27-July 9, 2014. The survey is based on a nationally representative sample of U.S. investors with $10,000 or more in stocks, bonds, mutual funds, or self-directed IRAs or 401(k) accounts.
Josh here – I shudder to think about the 24 percent of these respondents who've found "informal" advice in terms of a financial plan – I can only imagine they're referring to the brother-in-law who watches Cramer or Dave Ramsey. In which case, they've not gotten advice at all, but stock tips or platitudes.
In most cases, this has more to do with an unwillingness on the part of the profession to cater to the masses, as opposed to an unwillingness on the part of those who need help to go out and find it. My industry, like many others in this era of inequality, has been concentrating the bulk of its efforts toward "swimming upstream" in recent years. Even the $250k accounts at Merrill get the 1-800 call center nowadays, rather than a dedicated advisor.
According to the same poll, 80 percent of investors with more than $100,000 have actually created a financial plan and 65 percent of these investors have done so with the help of a professional. Which leaves 20 percent of all households with over $100,000 plan-less and some 35% of the so-called mass-affluent market working with a plan that's been self-created. An entrepreneurial advisory firm with the guts to pursue this less obvious market segment could carve out quite a niche for themselves.
Source:
U.S. Investors Seek Advice for Some Things More Than Others (Gallup)